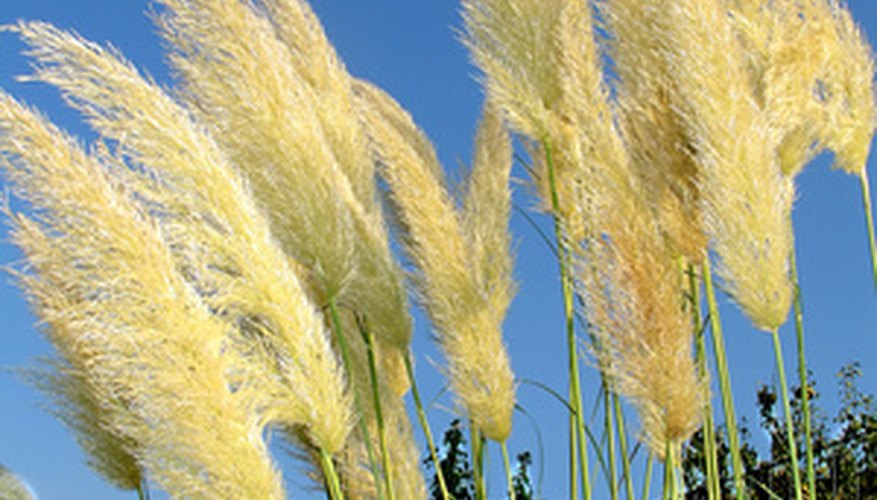 Various types of grasses provide ground cover and erosion control. Ornamental grasses are those that exhibit attractive growth and color. These types of grasses provide interest to many landscape designs, especially designs incorporating native plants. Ornamental grasses offer attractive, low-maintenance plants that grow quickly in many types of soils and climates. Some types of ornamental grass display aggressive tendencies, while others stay contained within their site. Individual plant characteristics and growth habits are important factors to consider when landscaping with these types of grasses.
Plan your landscape on paper. Sketch a blueprint of your existing landscape. Determine which areas of your yard would benefit from ornamental grasses. Many types of ornamental grasses thrive in areas where other plants perish. Select areas that receive full sunlight to partial shade. Consider using ornamental grasses for focal points in flower beds and rock gardens or as borders along property lines. Keep in mind the desired height for plants in each area of your landscape. Choose grasses depending on their color and the surrounding color scheme. Select varieties that contrast with nearby plants and structures.
Select grasses that enhance your existing landscape and co-exist with nearby plants. Choose tall grasses, such as silver banner grass or moor grass, for areas where considerable height is a requirement. These grasses grow between 6 and 7 feet, creating an attractive selection near structures or alongside lampposts. Choose short varieties, such as autumn moor grass for planting in the foreground of flowerbeds, and select medium-sized grasses, such as lemon grass to use as borders along sidewalks and driveways. Keep invasive varieties, like Japanese blood grass and blue lyme grass, contained in their separate areas.
Plant ornamental grasses that require plenty of water in wet areas of your yard or in locations easily accessed with a garden hose. Ornamental grasses requiring plenty of moisture include various types of reed grasses, Japanese sedge and velvet grass. Choose drought tolerant varieties, such as little bluestem, to grow in dry areas of your landscape.