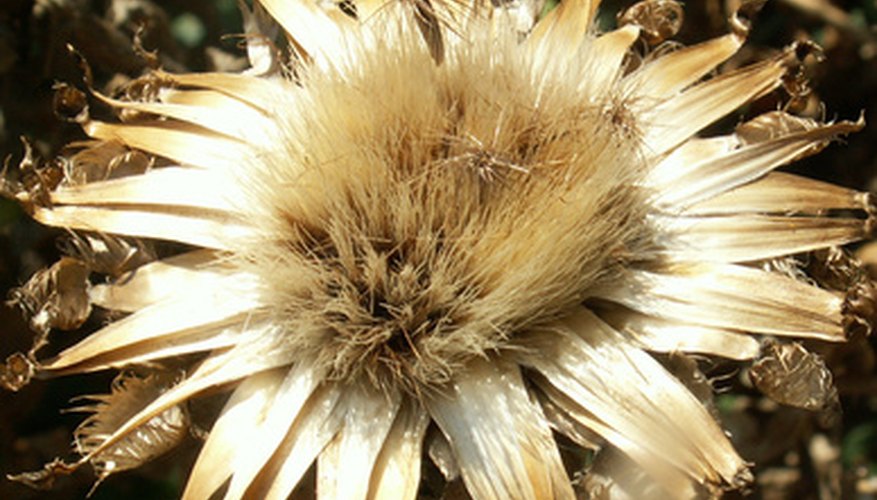 Thistles are an invasive weed, spreading through their root systems. Thistles thrive in home garden conditions--areas that are moist and sunny. These weeds are detrimental to your garden, choking out your garden plants and taking up valuable nutrients from the soil. Thistle weed removal can be accomplished through hand weeding or using weed-removing chemicals. One of the most effective methods for removing thistles is using a rototiller. While it is a little more time-consuming, it is a surefire way to remove all of the existing weeds.
Snip the flower from any thistles that have bloomed. Snipping the flowers prevents the seeds from spreading. Use a clean pair of garden shears and snip the flower just below its head. Dispose of flower heads in a trash can or bag.
Rototill the soil to a depth of 8 inches. Dig the tines of the rototiller into the soil until it begins to loosen. Continue tilling until you have dug to 8 inches. Work in a straight line in rows.
Pull the thistles by hand. Pull the thistles straight up from the ground once the soil is loosened from tilling. Thistles should easily release from the ground.
Rake the thistle remnants together. Place these remaining pieces in the trash.
Things You Will Need
Rake

Shears

Trash can or bag

Rototiller
Tip
Repeat thistle removal as often as needed until there is no regrowth.