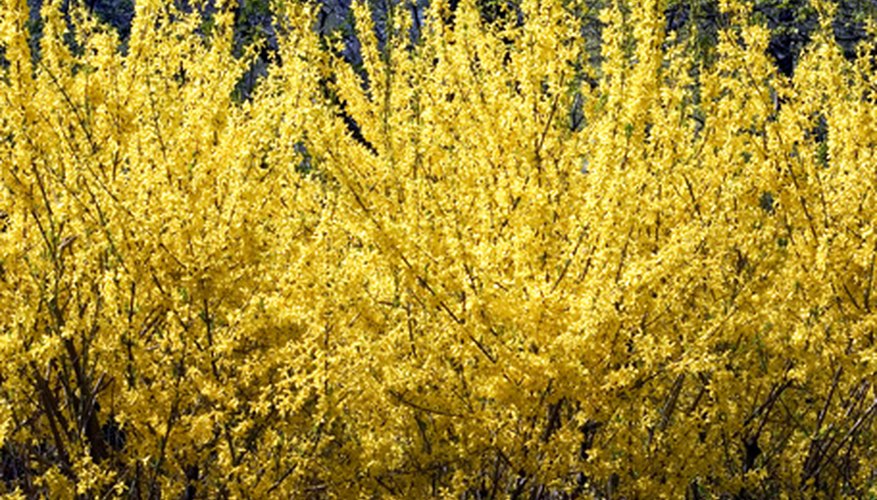 Forsythia (Forsythia x intermedia), a fast-growing and early-blooming deciduous shrub, is a popular landscaping choice. Easy to grow in most parts of the country, forsythia is also an excellent candidate for indoor forcing, a process that lets gardeners get a jump start on spring with its bright yellow flowers. Branches brought in for forcing can be rooted to start a forsythia bush that can be planted outdoors, where it will grow to a maximum height of 8 to 10 feet in almost any type of soil.
Choose your cutting source. During the summer, inspect the forsythia from which you plan to take your cuttings. The plant should be robust and free from damaged or broken branches.
Wait until late winter to take cuttings. Select a branch that has abundant, plump flower buds. Using sharp pruning sheers, cut a 12- to 24-inch length of forsythia branch.
Fill a vase with lukewarm tap water. Trim off any buds that will be covered by water and insert the stems into the vase. Place the vase in a cool spot, away from direct sunlight. Blossoms will begin to appear in about one week.
Keep the stems in the vase after the blooms have dissipated. Change the water every five to seven days. Leaves and roots will begin to appear in four to six weeks. Plant cuttings outside after all danger of frost has passed.
Water regularly throughout the first growing season.