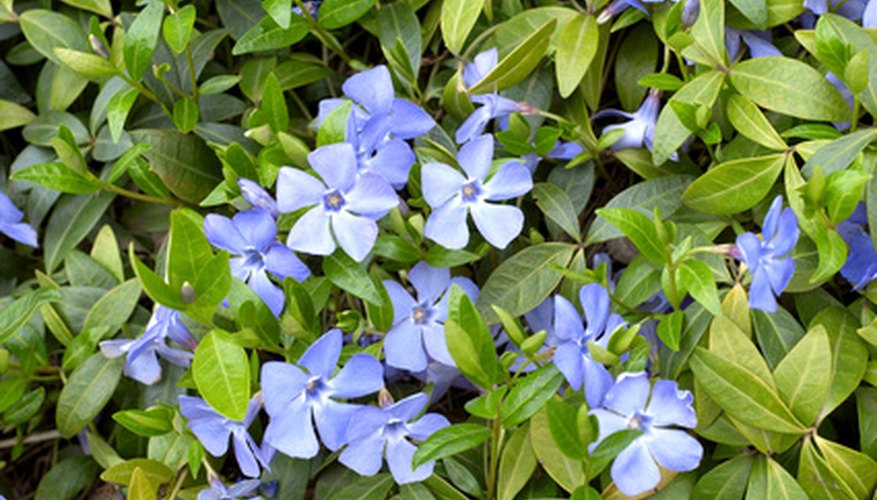 Vinca minor (also known as myrtle or periwinkle) is a vigorous, evergreen ground cover that thrives in moist shade and produces blue or purple flowers in the spring. That doesn't sound like a bad plant. But "vigorous" can be a problem: vinca minor can be too much of a good thing. When given reasonably good growing conditions, vinca can spread out over the rest of a garden. It also has been known to escape into the wild and interfere with native plants. Many states include vinca on their list of invasive plants they want to eradicate.
Control
Restrict supplemental water to your vinca. It thrives in soil that is consistently damp, so reduced water will discourage its rampant growth.
Trim back trailing stems with pruners at the edges of your vinca patch, so that the vinca is well inside its designated area. Discard the stems in a yard waste container.
Do not add fertilizer or compost to your existing vinca plants, to discourage excessive growth.
Eradicate
Dig up the vinca plants you want to remove, using a shovel.
Rake your vinca patch to pull up all roots and pile the stems for disposal. Discard them in your yard waste container.
Mow or use hedge clippers if you have a deep patch of vinca. Rake up the excess plant pieces and dispose of them.
Spray your vinca with glyphosate after you have damaged the surface (cuticle) of the plant by raking, mowing or clipping. Follow the manufacturer's instructions. Repeat this process when your vinca is actively growing in spring, late summer or early fall.