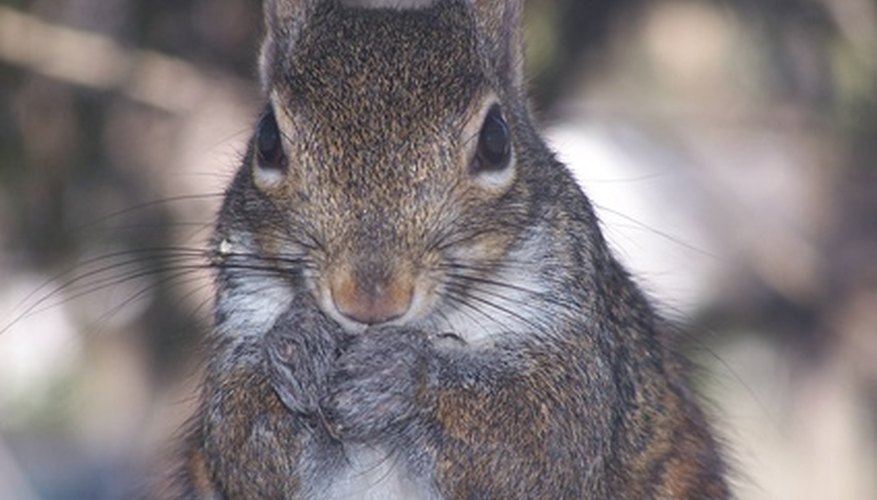 Gardeners who engage in an ongoing battle with garden squirrels can quickly get the upper hand over these annoying critters with homemade repellents. Squirrels avoid hot peppers because of the natural oils present in hot peppers. Using hot peppers or hot sauce in squirrel repellent spray will make an effective spray that will keep the squirrels away from garden areas. Make sure you continue to apply the repellent spray often—especially after it rains—to keep the squirrels from disturbing your prized plants.
Onion and Pepper Repellent Recipe
Chop the onion and the pepper finely with the knife. Pour the chopped vegetables into the saucepan.
Add 2 quarts of water to the saucepan.
Boil the water and vegetables for approximately 20 minutes. Remove the saucepan from the heat and allow the ingredients to cool to room temperature.
Pour the ingredients into the spray bottle through the metal strainer or the cheesecloth.
Spray the repellent spray liberally onto any garden area where you want to deter squirrels. Reapply the repellent spray every three days or after it rains.
Hot Sauce Repellent Recipe
Place 1 gallon of cool water into the bucket. Add the bottle of hot sauce to the water and stir the ingredients well.
Add 1 tsp. of dishwashing soap to the bucket and stir the ingredients well.
Pour the squirrel repellent into the spray bottle.
Spray the repellent spray around the areas you want to protect. Reapply the spray once or twice per week or after it rains.
Things You Will Need
1 yellow onion

1 jalapeno pepper

1 tbsp. cayenne pepper

1 small bottle hot pepper sauce

1 tsp. dishwashing soap

Cutting board

Utility knife

Saucepan

Metal strainer or cheesecloth

Spray bottles

Bucket