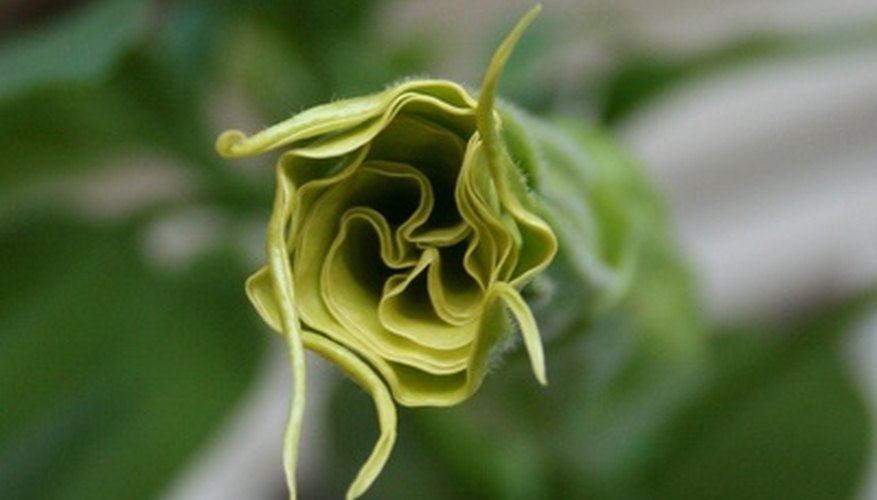 New Mexico falls within the United States Department of Agriculture (USDA) Hardiness Zones 4 to 8. While most of New Mexico experiences a mild, semi-arid-to-arid climate, the mountain regions have a sub-arctic climate. Gardeners in New Mexico should select flowering plants according to bloom time, bloom color, intended use, and general culture. Many flower varieties work well in New Mexico landscapes, according to the Ladybird Johnson Wildflower Center of the University of Texas at Austin.
Angel Trumpets
Angel trumpets (Acleisanthes longiflora) belong to the four-o'clock plant family (Nyctaginaceae), which means the flowers open in the evening and close the following morning. This herbaceous perennial features trumpet-shaped, white flowers that bloom from May through September. These spreading plants reach up to 3 feet in height. The angel trumpet tolerates various soils as long as it receives full sun. Angel trumpets work well in moon (night-viewed) gardens.
New Mexico Locust
The New Mexico locust plant (Robinia neomexicana), also called the mescal bean, belongs to the pea family (Fabaceae) and naturally occurs in New Mexico deserts, canyons, forests and mesas. This perennial shrub reaches up to 10 feet in height. Fragrant purple-to-pink flowers bloom from April through August. The New Mexico locust also bears red-purple branches and hairy, thick beans that contain toxic elements. This shrub likes dry, rocky soils in part-shade positions. Gardeners often plant New Mexico locusts as ornamental shrubs, erosion control plants and understory trees.
White Prairie Clover
White prairie clover (Dalea candida) features smooth, green leaves and cylindrical spikes covered in small, white blossoms. These flowers appear from May through September. This Fabaceae plant family member likes dry soils that receive full sun. Mature shrubs reach up to 2 feet in height. New Mexico gardeners often plant white prairie clover in butterfly and bird gardens.
Purple Prairie Verbena
Th purple prairie verbena (Glandularia bipinnatifida) is a low-growing plant that reaches under 12 inches in height. This verbena family member (Verbenaceae) bears clusters of pale pink or purple blossoms from March through October. The purple prairie verbena prefers partially shady locations with well-drained loamy or sandy soils. New Mexico gardeners often use purple prairie verbena as groundcover and in wildflower gardens.
Prairie Acacia
The prairie acacia (Acacia angustissima), also called the prairie wattle and the fern acacia, is a perennial shrub in the pea family (Fabaceae). The prairie acacia blooms white-to-peach flowers from June through September. Cattle like to feed on the protein-rich seeds. This thornless acacia variety also features fern-like, green foliage. New Mexico gardeners often use the prairie acacia as groundcover and prairie restoration plants. This flowering plant likes dry soils in partly shady to fully sunny locations.
Tahoka Daisy
The Tahoka daisy (Machaeranthera tanacetifolia), also called the tansy aster, belongs to the Asteraceae plant family and does well in dry, rocky or sandy soils that receive part to full sun. The Tahoka daisy bears fern-like foliage and vibrant flowers that appear from May through October. These flowers feature lavender to bright purple petals surrounding yellow center disks. This mound-forming, spreading daisy reaches 12 inches in height. New Mexico gardeners often plant Tahoka daisies in rock gardens and wildflower meadows.