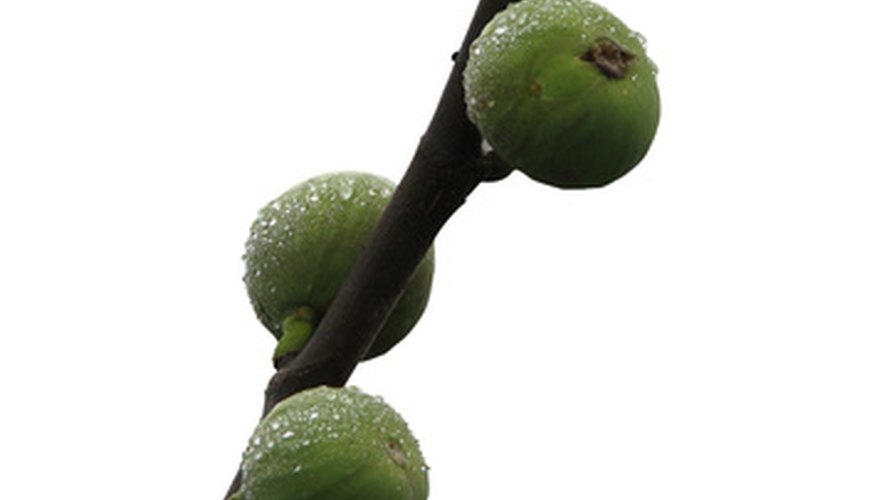 Fig trees thrive in warm, dry climates. This twisting, muscular tree averages a height between 10 and 30 feet, although some figs grow as tall as 50 feet. Fig trees grow in many areas of the southern United States, as well as Mexico, South Africa and Australia. These trees produce plump, meaty fruits after blossoming. To thrive, fig trees require protection from elements, diseases and adverse conditions.
Look for an area in your yard that provides protection from strong winds and killing frosts. Many types of fig trees, such as blue celeste, Brunswick and brown turkey, survive light frosts without damage to the tree structure. In cooler climates, plant your fig tree near a structure with a southern exposure to capture reflected heat. If you live in a climate that regularly experiences freezing temperatures, keep your fig in a large tub or pot and bring it in before the beginning of winter.
Plant your fig tree in soil with a pH level between 6.0 and 6.5. Perform a soil test to determine the level of pH in your soil. Follow the instructions on the soil test for collecting the sample and add any ingredients recommended by the test results. Although fig trees grow in a variety of soils, provide protection from root rot by adding some sand to heavy soils to lighten the soil and increase its porosity. Add compost to poor soils to protect your tree from nutrient starvation. Thoroughly combine all soil additives with a garden shovel to create a light, well-drained medium.
Remove ripe fruit from your fig tree as it matures to avoid pests and diseases that feed on rotting fruit. Rake up any fruit lying on the ground near your fruit tree to protect the tree from mites and the mosaic virus they spread from diseased trees to healthy specimens.
Trim your fig tree with pruning shears to remove much of the above-ground growth before freezing temperatures arrive. Cover with a heavy carpet to provide added protection during cold snaps.