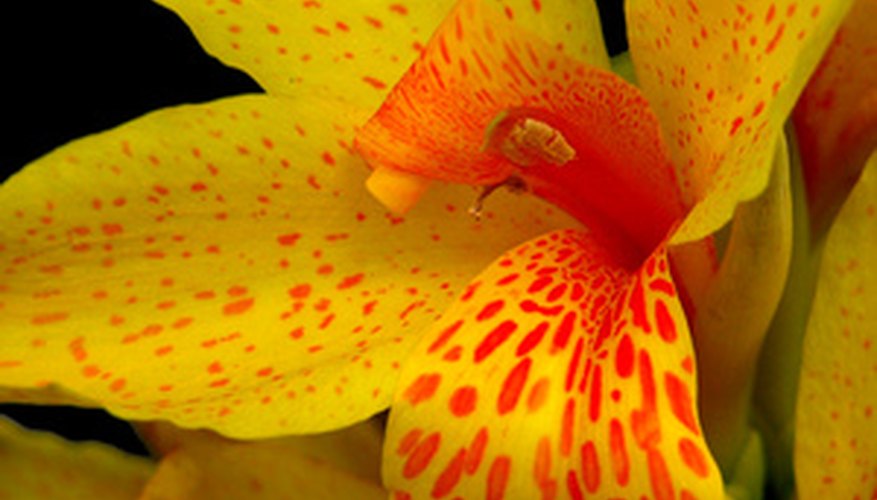 There is no one sure-fire method you can use to ensure your canna tubers or rhizomes will survive winter storage. The goal is to keep the tuber moist, but not wet or soggy. Keep the tubers in a cool, dark area. Monitor your tubers over the winter and add moisture if they are too dry, circulate air if mildew develops, and add peat moss, sawdust or another similar material if they are too moist. The benefits to storing tubers are saving money and growing larger cannas during the summer.
Dig the canna tubers out of the garden carefully. Inspect for damage. Discard rotten tubers.
Clean the tubers with water or by brushing away the soil with your hands. Avoid damaging the canna as you work. Trim off excess roots.
Place the canna tubers in a sunny and dry location. Wait for the canna to dry until they are firm. If the ground was wet when you dug up the tubers or if you used water to clean off the dirt, this can take several days. Protect the canna from freezing temperatures during this drying process.
Place firm, dry canna in plastic storage bags. The specific size depends on the size of the tubers. Cover the tubers with your choice of perlite, vermiculite, clean sawdust, sand or peat moss.
Write the name of the type of canna on a label and attach it to the bag for future reference.
Store the canna bulbs in a space where the temperature is around 45 to 50 degrees Fahrenheit. Do not let the bulbs freeze while in storage.
Look at your canna a few times over the course of the winter. Add moisture if the tubers appear to be too dry. Leave the bags open or remove the tubers from the bags if the tubers are too moist. Separate tubers that start to mildew or rot from the others.
Things You Will Need
Canna tubers

Peat moss, sawdust or vermiculite

Plastic storage bags

Labels
Tips
Experiment with different storage materials to see which best fits with the conditions in your home.

You may divide canna tubers before or after storage.