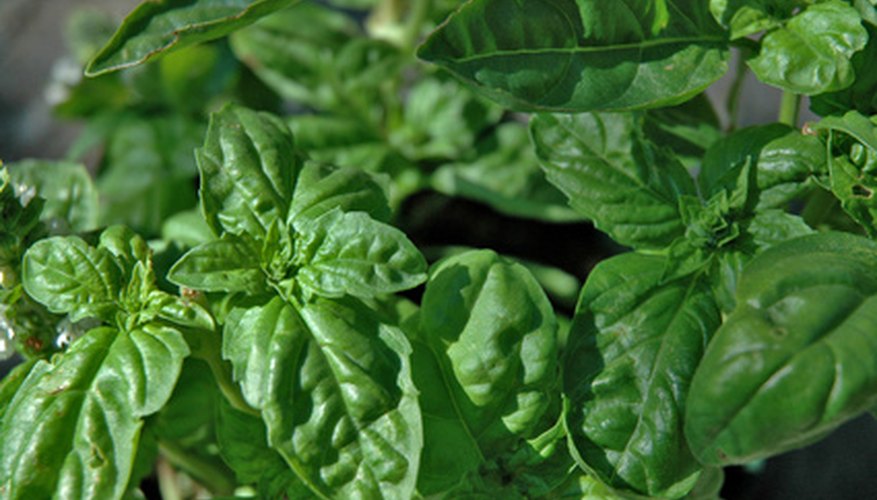 Basil is an herb that can be used for a variety of dishes, including pizzas, pastas, salads and soups. Growing basil is fairly simple. The plant favors sunny, warm conditions and does best outdoors. It can be planted through the beginning of July and harvested at your leisure throughout the rest of the summer. Basil does not grow well indoors because it often can't get the light it needs to develop unless it's placed under a grow light.
Till the soil in your garden patch using a hand tiller. Remove any rocks, roots and other debris from the dirt so that the tilled area is light and fluffy. Choose a location that gets full sunlight at least eight hours per day. Keep in mind that there needs to be 12 to 18 inches of space between each seedling. When clearing the area, plan accordingly for the number of basil seedlings you will be planting.
Sprinkle an inch-thick layer of compost on the tilled soil and use the hand tiller to combine the two. This allows the soil to efficiently drain water away from the plant, which is very important when growing basil. Poorly drained soil can flood the roots and kill the plant.
Dig holes deep enough to encompass the seedlings' root balls. Space the holes 12 to 18 inches apart. Place one seedling in each hole and fill the holes with soil. Water the basil plants immediately, drenching the soil.
Water the growing basil plants once a day, moistening but not drenching the soil. If the plants appear dry or brown, increase the watering to twice daily. Intense heat can dry the soil more quickly.
Harvest the leaves when you need basil for a recipe. Snip the leaves from the plant's stem with a pair of scissors, starting at the bottom of the basil plant. Snip away any developing flowers to increase leaf production.