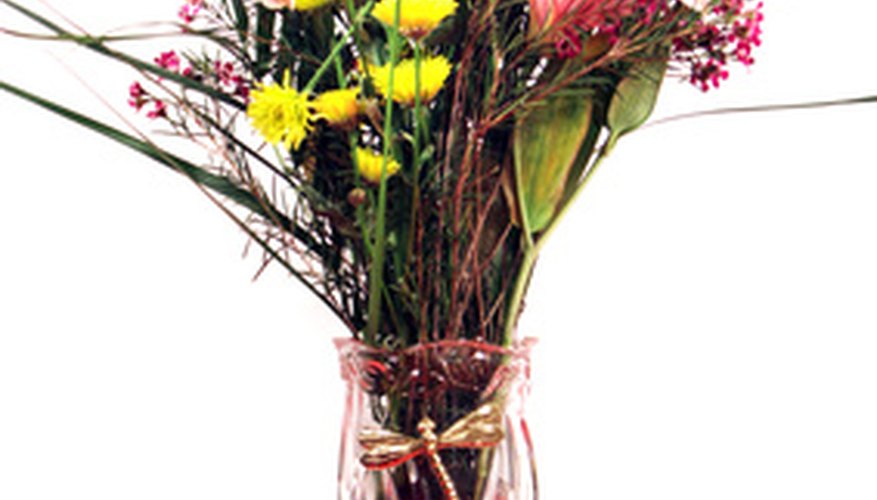 Bringing fresh cut flowers home from the florist or grocery store adds beauty and life to your home's interior. Most everything is going up in price and that includes cut flowers. It only makes sense that you would want to make them last as long as you can. If you are lucky enough to have exquisite blooms in your own garden, bringing them indoors is a natural inclination. With a bit of extra effort on your part, the life of cut flowers can be extended for your enjoyment.
Ask for a plastic bag and rubber band when you pick up your fresh cut flowers. Put enough water in the plastic bag to cover the ends of the flower stems. Wrap a rubber band around the top of the plastic bag, to make sure the water stays in. Bring a small box with you so that you can set the bag upright in it for the ride home. If you are cutting flowers from your own garden, take a bucket of water out with you. As you cut the stems, immediately put the ends into the water.
Fill your sink with warm water when you get home. Remove the plastic bag and place the stems immediately into your sink. Fresh cut garden flowers can be left in the bucket.
Cut the stems of all the flowers, 1 inch up, at an angle while they are still under water. Leave the flower stems in the sink (or bucket) while you arrange them into a vase.
Pour the packet of flower preservative into a vase. The preservative is called biocide (kills bacteria, yeast and fungus). Fill the vase 1/2 full with fresh water.
Remove all the leaves from your flowers that will fall below the top of the vase while the flower stem bottoms are still in the sink water. Leaves soaking in the water of the vase will cause bacteria that shortens the flower's life.
Arrange your flowers in the vase. Place them in a location that is away from direct sunlight or drafts, cool or warm. At night, move the vase of cut flowers to a cooler room of the house. You can move them back again in the morning to an area where you will best enjoy them.