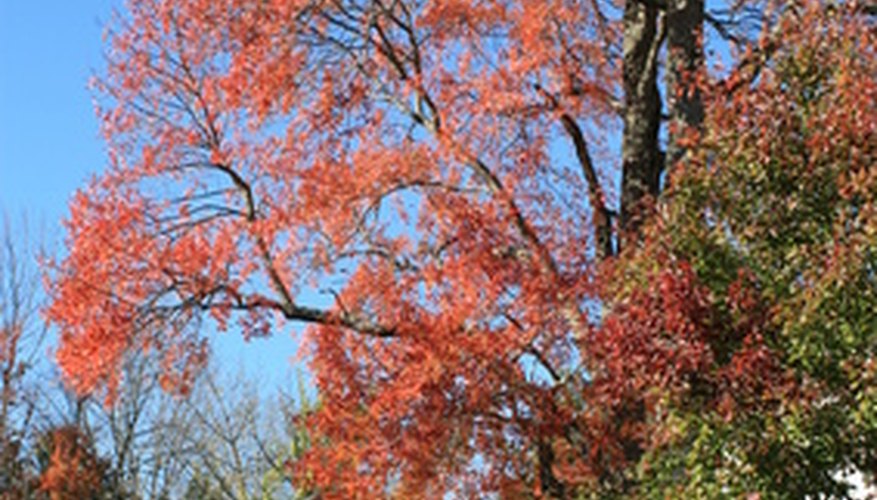 From Narragansett Bay's salt marshes to Maine's North Woods, and from Gloucester's rocky coast to New Hampshire's rocky White Mountains outcrops, New England presents gardeners with many challenges. Not the least of which is finding flowering trees to beautify home landscapes. Some of the best places to search are in New England's wild places, where the flowering trees have already mastered the territory.
Fire Cherry
A member of the rose family, Prunus pensylvanica is dubbed "fire cherry" because its seedlings are quick to sprout in the New England woods following forest fires. They grow into 35-to-50-foot reddish-barked trees with horizontal branches. In May they produce abundant clusters of fragrant white flowers followed by small red cherries.
The cherries, which make good preserves and syrup, are a food source for several bird species and small mammals. Shade-intolerant fire cherries quickly establish themselves in disturbed areas of the New England wilds, providing protection for hardwood seedlings that will eventually tower over and kill them.
Plant fire cherries in neutral, dry well-drained soil. Sandy or even rocky soil is best. Prolong their lives by placing them away from trees or structures that might shade them. Fire cherry's wilted leaves, twigs and seeds are toxic if ingested.
Pagoda Dogwood
The horizontal branches giving pagoda dogwood (Cornus alternifolia) its tiered appearance, says the Connecticut Botanical Society, are responsible for its name. While the 25-to-30-foot tree's fragrant white May and June flowers aren't as dramatic as those of the more common flowering dogwood, it has colorful bark and reddish-purple autumn foliage. Grouse, wild turkeys, pheasants and small mammals love its coral-stemmed deep-blue berries.
Pagoda dogwood grows wild on New England's rocky slopes and coastal plains. Plant it in partial to full shade and moist, acid, well-drained soil. It tolerates clay. Keep the trees mulched so their roots remain cool and damp.
Shadblow Serviceberry
Shadblow serviceberry (Amelanchier canadensis), growing from 35 to 50 feet with an equal spread, makes an excellent shade tree. Before the trees leaf out in April, dense clusters of white blossoms appear at the end of their twigs. The flowers are a nectar source for butterflies and bees. Purple midsummer berries and red or orange autumn foliage make shadblow serviceberry a desirable stand-alone specimen tree.
Wild serviceberry loves New England's moist upland forests. Plant trees in partially shady to shady locations. While they tolerate sun, they may drop their leaves during prolonged drought. Give them rich, moist well-drained soil, mulch them well, and water them regularly in the heat of summer.