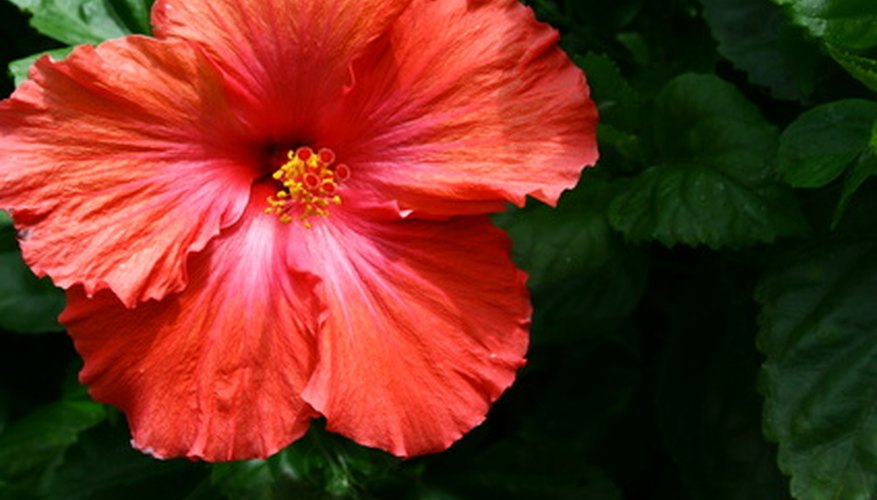 You don't have to live on a tropical island to create a lush garden landscape. To create a tropical paradise in your backyard, choose plants that have bright colors like red, orange and yellow. These fiery colors compliment deep green foliage. Another essential tropical feature is water. Employing water features nestled among the foliage and blooms evokes a jungle feel and compliments the landscape.
Water Feature
When you think of a tropical garden landscape, you think of cascading water. There are many varieties of water features that can be tucked among a perennial garden or used as the focal point to the garden. Container water features are ideal for small spaces because they don't take up a lot of room. Even though they are smaller, they still create a relaxing, trickling sound that compliments a tropical garden. Larger features like multi-tiered or wall-mounted fountains add a dramatic feel to the space. As the water cascades down, it is collected in a basin that can be used to grow tropical floating flowers like water lilies.
Lush Foliage
Lush, vibrant green foliage evokes the feeling of being in the jungle. To create your own tropical feel, plant an elephant's ear plant. Elephant's ear, as the name suggests, has large, leather-like leaves that resemble an elephant's ear. These tall vibrant green plants grow up to 84 inches tall and have bright green leaves. The open form of the elephant's ear brings a commanding presence to the garden.
Another spectacular plant for tropical gardens is the Japanese banana plant. This fast growing ornamental plant has long, broad green leaves that grow up to 8 feet long. The yellow flowers on the Japanese banana tree add a burst of color and contrast with the bright green foliage.
Colorful Flowers
Don't forget to add bright and colorful flowers to your tropical garden landscape. Tropical flowers like red hibiscus are a striking presence with their bright blooms. Red hibiscus flowers are large and grow 4 to 8 inches wide. They come in a wide range of colors including red, pink, yellow, orange and apricot. This showy plant reaches up to 30 feet tall and 15 to 20 feet wide. Their glossy dark green leaves contrast to create a lush look.
Another tropical bloom to add to your garden is the celosia flower. Native to the tropics, these bright annual flowers grow in upright clusters, in brilliant shades of red, gold, orange, pink and crimson.