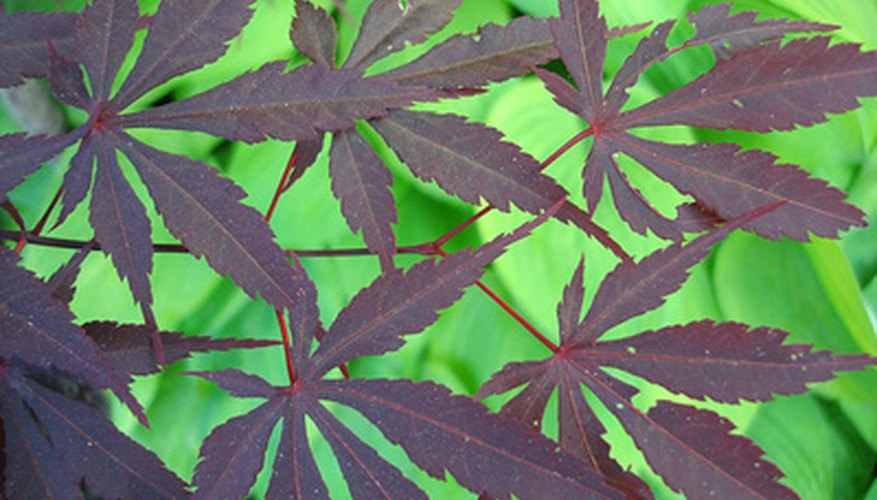 Japanese maples will grow well in Arkansas. However, because it is warmer there, some cultivars may not offer the intensity of fall colors that they offer in colder climates. This does not mean that the trees will not do well. Be sure to select a protected location that isn't in full sun in Arkansas to avoid leaf burn.
Bloodgood
The Bloodgood is a popular cultivar of Japanese maple that begins the spring with red leaves that turn a deep purple or purpleish green by summer. The wings on the seeds are red and the leaves turn crimson in fall. The Bloodgood is an upright tree with a round stature. It can reach up to 20 feet in height and spread. The Bloodgood Japanese maple is suitable for USDA Plant Hardiness zones 5b through 8 and should grow well in many parts of Arkansas.
Aoyagi and Coral Bark
Two cultivars of Japanese maple have very unusual bark coloring. The Aoyago has bright green branches year-round. The Coral Bark, or Sangokaku, has red branches year-round. Although you can plant these cultivars separately for a striking landscape, planting them together can bring attention to the very unusual coloration of the branches on the two trees. Both of these trees will do well in Arkansas as long as they are protected from direct sun to prevent leaf burn.
Chiba Gold
Chiba Gold is a variety of Japanese maple that is very small with very small leaves. Although ideal for pot cultivation, it should survive very well in Arkansas' climate. The Chiba Gold's gold-colored foliage is unique among Japanese maple cultivars. The plant will grow to between 3 and 6 feet tall. Its leaves are gold in the spring and will turn green by summer. This Japanese maple is very sensitive to sun and leaf burn and should only be planted in shady places.