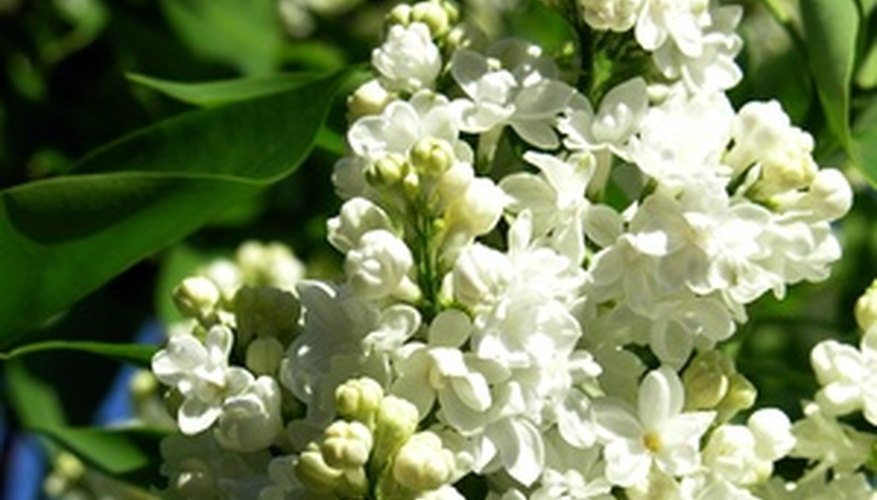 white lilac blooming image by Maria Brzostowska from Fotolia.com
Most white varieties of lilacs are selected from the common lilac variety Syringa vulgaris. All Syringa vulgaris cultivars are commonly referred to as "English" lilacs, although in recent years this has fallen out of fashion. To further complicate matters, lilac varieties that have been hybridized from Syringa vulgaris are now commonly referred to as "French" varieties, because most were developed in France, primarily by the French Lemoine family. It has become commonplace to refer to all cultivars of lilacs as "French" regardless of where they were developed.
Alba
Growing larger than their purple cousins, the common lilac variety, Alba (Syringa vulgaris Alba), also grows longer branches than purple varieties but they are smaller in diameter. Alba grows to a mature height of 8 to 10 feet and spreads an equal distance. The flowers are extremely fragrant and bloom in mid spring. Prune them shortly after they finish flowering every year and they will produce a large amount of flowers every spring. They grow best in full sun to partial shade, but will produce more flowers in full sun. Widely adaptable to different soil types, alba lilacs are hardy in USDA zones 3 through 9.
Beauty of Moscow
One of the most beautiful lilac flowers, the beauty of Moscow (Syringa vulgaris Krasavits a Moskovy) grows fully double, perfectly formed pure white flowers. The buds begin as a pinkish color but the flowers are pure white when open. Beauty of Moscow grows 12 to 15 feet high with a rounded shape and it spreads 6 to 12 feet. It is hardy in USDA zones 3 through 7.
Mme Lemoine
With intensely fragrant double white flowers, Mme Lemoine was also developed from Syringa vulgaris. Its flower clusters are very large and can weigh down the branches. It grows about 12 feet high and spreads about 6 feet wide. Unlike most other varieties, Mme Lemoine does not have a suckering habit and is very drought resistant once established. Grows best in full to semi-sun in average well-drained soil. Slightly less hardy than most lilacs, Mme Lemoine is rated for growth in USDA zones 4 through 9.