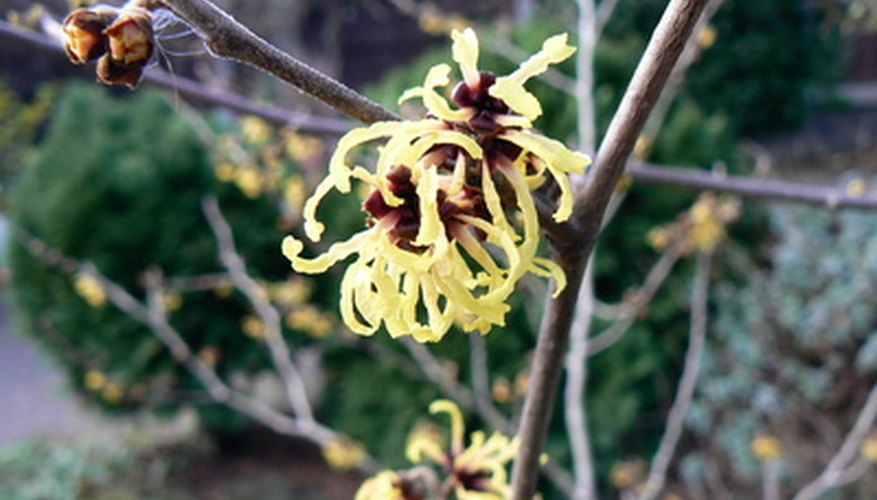 Witch hazel is a slow growing deciduous tree that, at maturity, will be as tall as 20 to 30 feet, with a 15- to 25-foot spread. Witch hazel will grow in nearly any area of the country, with the exception of the coldest northern climates, and very warm humid southern climates. A late bloomer, witch hazel will present spidery yellow, fragrant flowers in October and November, after the showy yellow autumn foliage has dropped. Once witch hazel is established, it requires very little maintenance.
Plant witch hazel trees in spring or fall. Witch hazel prefers full sun or partial shade. Witch hazel is tolerant of most soil types, as long as the soil drains well. Avoid planting witch hazel in soggy areas where rain water doesn't drain quickly.
Water the witch hazel tree immediately after planting, and keep the soil moist for the first year. After the first year, the witch hazel tree will be established, and normal rainfall will be adequate. However, witch hazel will benefit from an occasional drink of water during periods of hot weather and drought.
Spread 2 to 3 inches of organic mulch around the base of the witch hazel tree, but leave 6 inches uncovered around the trunk. Mulch such as bark chips, pine needles, chopped leaves or straw will retain soil moisture and help to control weeds.
Prune the witch hazel tree in early spring, before new growth emerges. Remove any branches that were damaged during the winter, along with any shoots that appear weak or spindly. Trim branches that grow across other branches, or those that detract from the desired shape of the tree. Dig up witch hazel suckers as they appear.