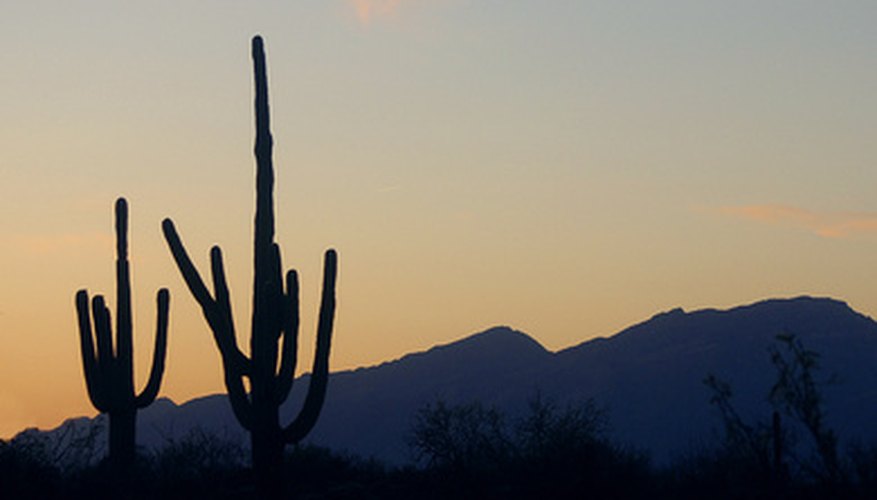 Phoenix has a long hot summer with temperatures staying above 90 degrees for days at a stretch. It's not uncommon for highs in June to reach more than 110 degrees. The heat starts as early as March with temperatures in the high 80s and lasts through October. Vegetables do grow in Phoenix and if protected from the heat will produce for most of the summer. A few extra steps are required, though.
Prepare the soil. Double dig the soil by digging a trench 1 foot deep and wide the length of the vegetable garden. When you reach the end dig another trench using that dirt to feel in the first trench. Continue until the entire garden is double dug. If you run into caliche, which is a compacted, rock-hard white substance often found in the Phoenix desert, it has to be broken through for drainage or removed. It may take a pick axe to break it up.
Add amendments. Add gypsum to the soil to counteract some of the alkalinity of the Phoenix soil. The water is alkaline as well. Watering increases the concentration of salts in the soil as the water evaporates. Gypsum counteracts the salinity. Add compost, 1 cubic foot per 3 square feet of garden and fertilizer according to package directions. Dig the amendments into the soil and rake smooth.
Create a well around each of your large plants, such as tomatoes, squash, peppers and eggplant, to retain water. About 18 inches from the base of the plant, form a mound of dirt 4 inches high.
Plant bean seeds 1 inch apart and thin them to 4 inches apart when they are 3 inches high. This close planting shades the ground, keeping it moister. The beans will need a bit of extra water and fertilizer to compensate for the close planting.
Shade the plants during the afternoon with shade cloth or by locating the vegetable garden where it receives shade from a fence or wall.
Set up an irrigation system for watering rather than using a hose or sprinkler. Less water will evaporate. Water no more than every other day, even during June and July, the hottest months. Plants may wilt in late afternoon but they should perk back up during the relatively cooler evenings.
Fertilize with a water soluble fertilizer at half strength twice as often as the package directions specify. If leaves yellow, it's most likely because the plant isn't getting enough nitrogen, and the fertilizer will take care of that. If the leaves are yellow but the veins remain green, the plant needs iron. A special fertilizer with iron needs to be applied according to package directions.
Pollinate by hand vegetables that set fruit like tomatoes, peppers and eggplant when the temperature is above 95 degrees, otherwise the fruit won't set because the pollen dries out from the heat before it can do its job.