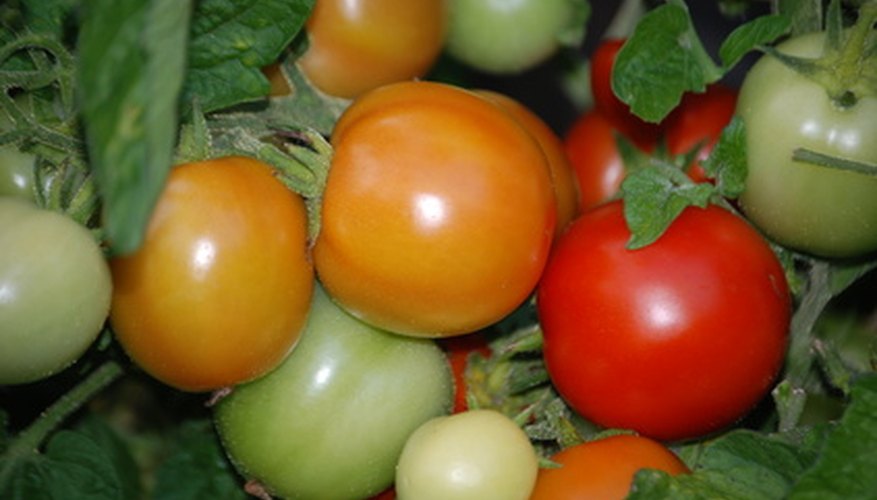 Tomatoes are a staple vegetable in many home gardens. There are varieties suited to almost any gardening situation, whether it be in a bed or a container. Starting with healthy seedlings and ensuring they get the best care throughout the growing season enables them to survive and produce large, good-tasting fruit. Tomatoes require proper watering, fertilizer and cultural practices to survive periods of stress or disease without suffering damage or death. Grow your own healthy tomatoes and reap the benefits at harvest time.
Plant tomatoes in a well-drained garden bed that receives full sunlight. Lay a 3-inch layer of compost over the bed and apply 1 lb. of complete fertilizer per every 100 sq. ft. of bed before planting.
Water the plants regularly and properly. Provide 1 to 2 inches of water in a single weekly irrigation. Water at the base of the plant and avoid getting the leaves or fruit wet. Morning watering is preferable to evening watering, as any excess moisture on the tomato plant evaporates.
Apply a 2- to 3-inch layer of straw bark or plastic mulch around the plants to prevent weeds and to preserve soil moisture.
Install stakes or tomato cages to support the plants as they grow. Install the stakes at the time of planting to prevent root damage. Tie the plants to the stake every 6 to 8 inches as they grow. Set tomato cages over young plants.
Fertilize tomato plants a second time once fruits begin forming. Apply 1 lb. of 10-10-10 fertilizer per 100-foot row. Work the fertilizer into the ground about 6 inches from the base of the tomato plants so the fertilizer doesn't come in direct contact with them.
Check tomato plants and fruit often for signs of insect or disease problems. Look for discolored or damaged leaves and badly formed fruits. Treat any disease or insect infestation immediately with the proper chemical or organic control so it does not spread to other plants.