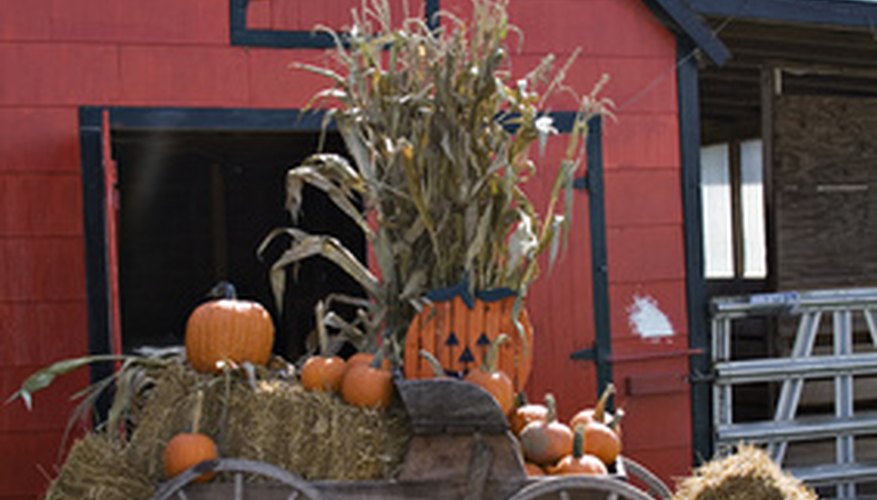 Vegetable gardening in hay bales is similar to gardening in raised beds in that it is a convenient way to garden for those who have restricted mobility or limited space. The hay bales usually will last about two seasons. As a bonus, over time the hay decomposes and the interior of the hay bale becomes composted material, which adds nutrients for the growing plants.
Arrange the bales with the strings running horizontally to allow for deeper penetration of the roots. Place the bales where they will receive eight hours or more of direct sunlight per day and in a well-drained area.
Give the bales a thorough soaking from a garden hose or approximately 15 gallons of water per bale. Water the bales this way for the next three days. Add 1/2 gallon of manure tea per day to each bale before watering, if this is to be an organic garden.
Add 1/2 gallon of manure tea on the third day or 5 oz. of ammonium nitrate, if the garden is not going to be organic. Add water to each bale until it is thoroughly soaked on this day and for the next three days.
On the seventh day add another 1/2 gallon of manure tea or 2-1/2 ounces of ammonium nitrate. Continue watering until thoroughly soaked for two more days. Follow this with 12 ounces of 13-13-13 fertilizer on the 10th day or another 1/2 gallon of manure tea.
Add 3 inches of compost or potting mix to the top of the bales on the 11th day. Water until all of the soil is saturated using a water-diluted mix of 1/2 manure tea or fertilizer and 1/2 water. Allow the soil to drain for 30 minutes.
Plant with seedlings or seeds and care for them as you would in a regular garden. Establish a watering schedule that is suitable for your climate and conditions. Water the bales thoroughly at least once a week and allow the water to drain away. Do not let the bails dry out.
Fertilize according to package directions. Spray on 1 cup of manure tea, about once a week, per bale or add 1/2 inch of compost each week to provide the necessary nutrients, if the garden is to remain oragnic.