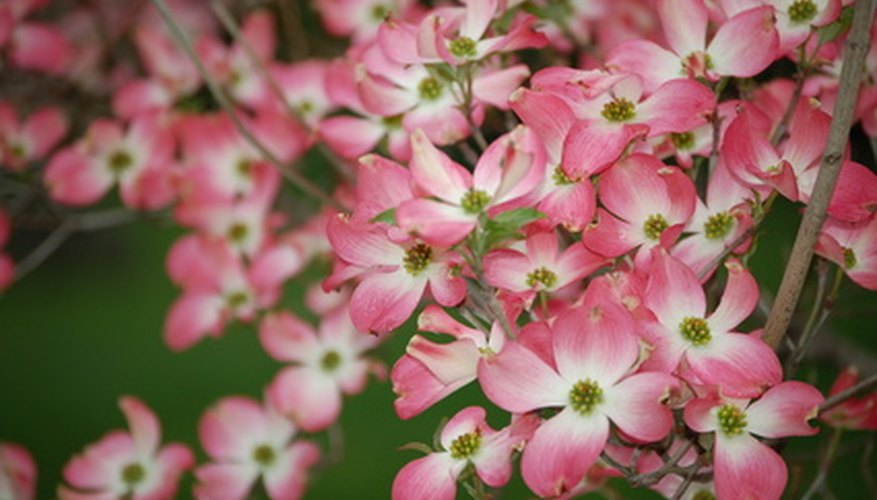 In late April and May each year, Baltimore's Sherwood Gardens burst into glorious bloom. More than 80,000 tulips and other spring bulbs explode with color against a backdrop of flowering trees and shrubs. The same flowering trees--or their wild relatives--can bring spring splendor on a smaller scale in your Baltimore garden. They'll fill the air with their fragrance, attract butterflies and birds, and in some cases, provide edible fruit for your enjoyment.
Flowering Dogwood
Found throughout Baltimore and Maryland's Piedmont region, flowering dogwood (cornus florida) puts on a spectacular spring show. The 20-to-40-foot trees' almost horizontal branches produce fragrant crops of white or pink 3-inch flowers between March and May. The red summer berries attract birds. Scarlet autumn leaves mean three seasons of garden interest.
Flowering dogwood grows wild in the shady woods and along streams and rivers around Baltimore. In your garden, it will appreciate a partly shady to shady location with slightly acidic, rich well-drained soil. Sandy soil or loam is best. Keep trees well mulched to maintain soil moisture, and shape them with early spring pruning. Feed them with an acid-loving plant fertilizer in the spring and autumn.
American Plum
American plum (Prunus Americana) is a short, spreading tree growing up to 35 feet. Like other members of the rose family, the trees have thorns. Their fragrant white flowers appear in large flat clusters during April and May. The flowers produce edible plums that ripen to a glossy reddish purple in August and September. Eat them straight off the tree or use them in preserves and pies.
American plum's bright red or scarlet autumn foliage makes an effective contrast with its nearly black bark. Because these trees spread readily with root sprouts, says the Lady Bird Johnson Wildflower Center, they are good for erosion control. They tolerate both sun and shade, and like moist, rich well-drained soil. Left to spread, they form wildlife-sheltering thickets.
Southern Crabapple
Another member of the rose family, southern crabapple (Malus angustifolia) grows wild in Maryland's damp woods and abandoned fields. Like American plum ,the 25-to-30-foot trees frequently spread to form thickets with intertwined branches. Fragrant March and April blossoms create clouds of pink. Young leaves open red but change to green over the summer. The small greenish-yellow "apples" provide food for birds, squirrels and other small mammals.
Southern crabapple grows best in part shade and moist well-drained soil high in lime. Drainage is especially important in humid Baltimore, where crabapples are susceptible to a number of diseases. Plant them away from other trees with plenty of room for air circulation.