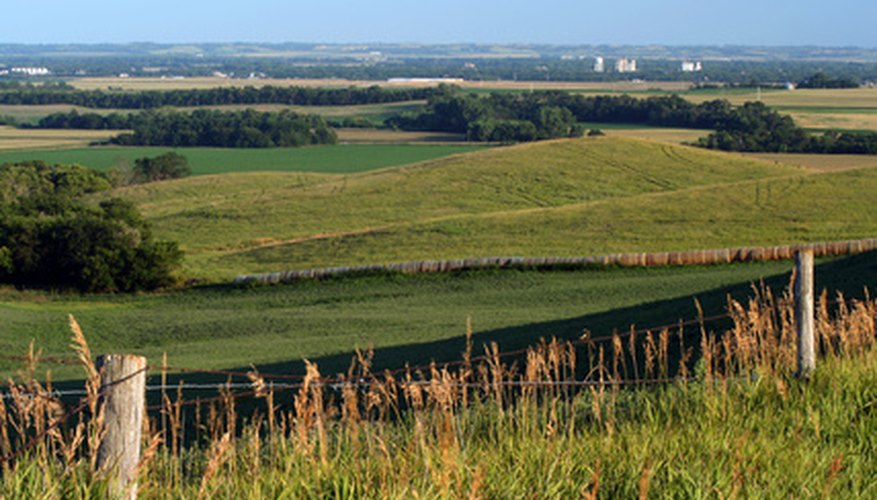 nebraska farmland image by Carbonbrain from Fotolia.com
As one of America's Great Plains farming states, Nebraska has fertile soil to compensate for its scorching summer sun and fierce winter cold and wind. Home gardeners in Nebraska have a choice of several flowering trees which can handle the state's climactic extremes. Many of these trees produce spring and early summer crops of abundant white blooms. Several are delightfully fragrant, attracting birds and butterflies to their nectar and fruit.
Birdcherry
Several varieties of bird cherry, says the Nebraska Statewide Arboretum, thrive in Nebraska. European bird cherry (Prunus padus) is a double-flowered cultivar bearing additional rows of petals to give its white flowers extra density.
It grows to 30 or 40 feet tall with an equal spread. Heavy 3-to-6-inch spikes of fragrant blooms appear in early May. In the summer, its small, astringent black fruit is irresistible to birds. European bird cherry does well in sunny or partly shady locations with medium well-drained soil.
Dogwood
The white or pink dogwood (Cornus florida) trees common in states to its south and east don't do well in Nebraska. The Nebraska Nursery and Landscape Association, however, recommends the Pagoda dogwood (Cornus alternfolia) as a successful alternative. Pagoda dogwoods have horizontal branches that produce creamy white blooms in late May or June. They like partial shade locations with moist, well-drained soil on the acid side.
Japanese Tree Lilac
Blooming lilacs mean that spring has arrived in the Plains states. While most lilac varieties are shrubs, the Japanese tree lilac (Syringa reticulata) grows as a tree. It produces clusters of fragrant white--not purple-- flowers.
Trees reach heights of 20 to 25 feet with spreads of 15 to 20. They like average, well-drained slightly acidic or alkaline soil and bloom best in full sun. Plant them as single specimens to ensure good air circulation. Removing faded flowers will increase future bloom. Prune the trees immediately after the blooming season.
Saucer Magnolia
The 20-to-25-foot tall saucer magnolia (Magnolia x soulangeana) is one of Nebraska's earliest spring bloomers. Fragrant large-goblet-shaped blossoms appear before the trees' leaves in March or April. Interesting green seed cones follow the flowers. The cones become red as they mature, finally dangling their seeds on silken threads.
Plant saucer magnolias in full sun to part shade to allow room for their 25-foot spread. They like rich, well-drained loamy soil that's neither excessively wet nor dry. Protect the buds from spring frost. Be patient, because saucer magnolias require up to five years before blooming. These extremely showy trees make magnificent specimen plantings.