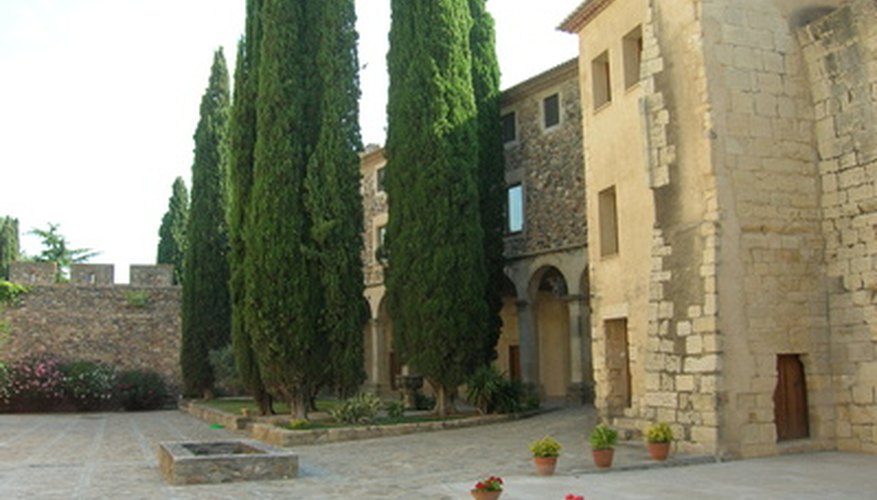 A green thumb is a plus for creative ways to shade a patio area. Plants, trees, shrubs and vegetation provide natural shade. Patio gardening can provide privacy and create a cozy atmosphere. Patio owners save money with this type of natural alternative to expensive awnings and traditional outdoor patio shade equipment.
Patio Trees
The use of a center tree is a natural method to shade a patio. Trees that do well in this area of the landscape are known as patio trees. The tree simultaneously gives a feeling of privacy and provides shading. The Colorado State University Cooperative Extension recommends the Eastern redbud, Japanese tree lilac, Washington hawthorn, Kousa dogwood and golden rain tree for home patios.
Gazebos
Gazebos offer shade to a patio area. The advantage to gazebos is the ability to install them without hiring a contractor or landscaper. Once the gazebo is placed over the patio, it is possible to entertain in the comfort of patio shade.
Convert a gazebo into a natural setting by planting flowering and evergreen vines near the patio. Train the vines to follow the shape of gazebo and you'll have additional patio shade. Some flowering vines, such as clematis, will attract butterflies and hummingbirds.
Fresh Vegetables
Container gardens are a creative way to add shade to a patio. One big advantage to container gardens is the ability to move them as needed. You can change the atmosphere and look of the patio area by swapping out containers of plants or by replanting with different plant varieties.
Set up several garden trellises in the patio area during the spring and summer months. Fill containers with vegetables that follow the trellises. Enjoy fresh vegetables while providing shade to a patio. For example, cherry tomatoes or pole green beans would do well in this area for providing shade and vegetables.
Hanging Baskets and Hedges
Hang baskets plants along the top edges of patios with walls to block out the sun from overhead. Licorice vine or trailing verbena do well with lots of sun and trail down from the basket for texture and shade.
Plant dwarf hedges in containers and line along the perimeter to provide a patio with additional shade. Backyard Nature recommends dwarf escallonia, boxwoods, Indian hawthorns and myrtle cultivars for patio areas.