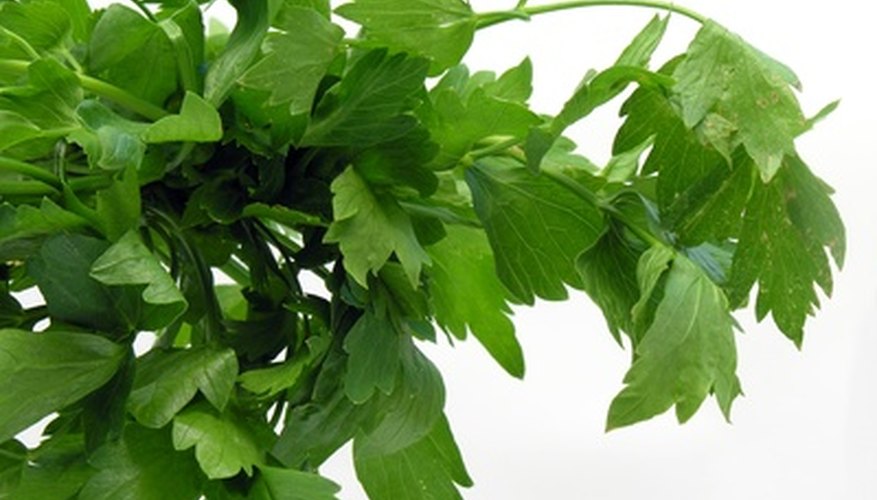 Indoor herb gardens allow for fresh herbs year-round. When preparing meals, having herbs nearby allows you to quickly snip off some parsley or chives to add to a recipe. Herb plants also add a decorative touch to the kitchen, and fit on a windowsill or on a stand in front of a window. Fresh herbs add extra nutrition to foods as well as pleasing tastes and aromas. Select herbs to grow in-house based on your herb preferences and available space.
Determine what types of herbs you want to grow. Parsley, mint and chives all grow well inside. Decide whether to plant seeds or seedlings. Starting seeds requires little work, but you will have to wait for the plants to establish themselves before harvesting any herbs. Planting seedlings allows you to use the herbs sooner.
Crush one eggshell per planting pot and place it aside until needed. Combine equal parts potting soil and compost in a bucket, and mix well. Wash out the plant containers, and disinfect them with vinegar. Allow the pots to air dry completely.
Rinse pebbles under running water to remove any residue. Place small pebbles into the bottom of each plant container to provide proper drainage.
Spoon the compost mixture into the plant containers to almost the top of each container. Do not pack the soil tightly. Add a seed to the depth stated on the product package, and cover carefully with soil. Add seedlings by burying the roots and a little of the stem in the soil and softly packing the soil in around the lower part of the plant.
Spoon the crushed eggshells around the seedling, or around the area where the seeds will sprout. Added nutrients from the crushed shells will disperse over time. Refresh eggshells seasonally. Removing old shells is not generally necessary.
Place the herb containers in a window, according to how much sunlight each herb will need. Feed the plants with compost tea once a week. Compost tea is compost diluted heavily in water. Do not over-fertilize.
Water when the soil seems dry. Keep the soil moist but not soaking.
Snip fresh herbs whenever they are needed for preparing meals and beverages. Snip in different areas of the plant each time to keep the herbs looking even.