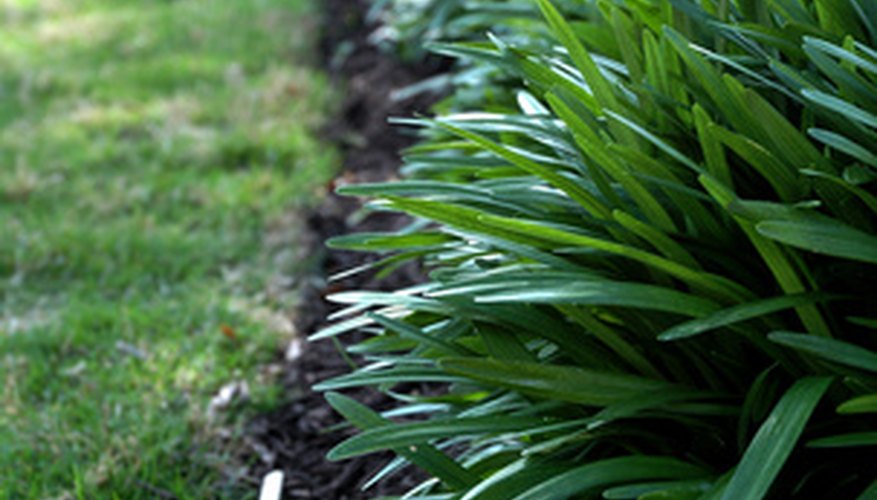 In a garden or landscaping project, borders are plant beds placed in front of walls, hedges, fences, larger flower beds and decks, to add visual interest or to provide a screen. Grass is a natural choice for borders not only because there are many varieties available to fit any design scheme, but grass is also a low maintenance plant, very easy to care for. Furthermore, grass can be used either alone or in conjunction with other plants in a border, which is known as a mixed border. Select plants that work well in the growing zone in which they will be planted.
Low-Growing Grasses
Low-growing grasses are especially suited for borders because their small size allows gardeners to layer the plants for maximum effect. According to Richard Bird, author of "The Border Planner," good choices for low-growing grasses include perennial quaking grass, blue Magellan grass, Bowles garden grass and ribbon grass.
Medium-Sized Grasses
Medium-sized grasses have a height range of 12 to 30 inches and can be used in beds to add texture and to pull the eye into a border, according to Marsha Jahns, author of "Step-By-Step Ornamental Grasses." Suitable medium-sized grasses include meadow foxtail grass; hakone grass, a slow spreading grass; purple moor grass, whose leaves grow in clumps; and white-flowered fountain grass, which has narrow, flat leaves and plumed seed heads on the stem ends.
Tall Grasses
In borders, tall grasses can be used as screens or as a background plant, according to the authors of "Ornamental Grass Gardening." Tall grasses to consider include giant reed grass, which is suited for use near ponds; pampas grass, which features white feathery plumes; spiky-leafed Japanese silver grass; and feather grass, which needs full sun and is suited for well-drained soil.