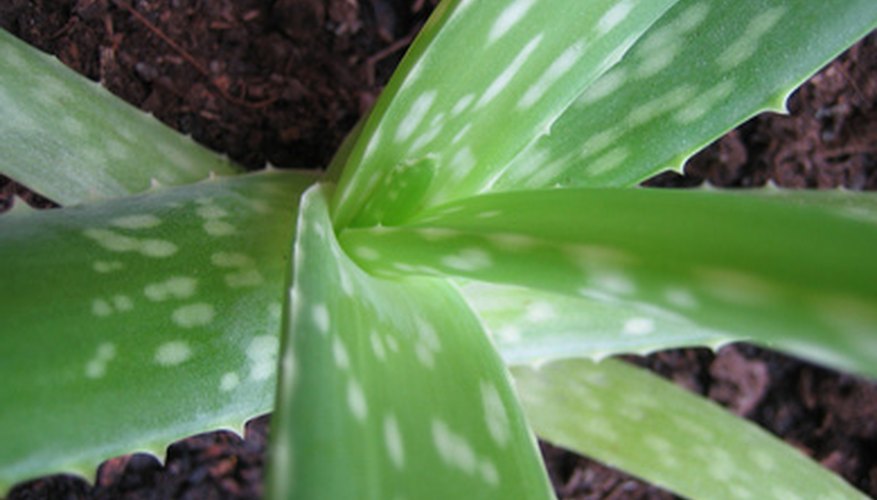 Aloe is the name of a genus that includes more than 400 species of succulent plants. The sap of the leaves of the aloe vera plant is used in first-aid treatments and cosmetics. Aloe is generally propagated by cultivating the "pups," or baby plants that the mother plant produces. It can be propagated from seed, however. The aloe will grow very quickly at first and then slowly for years. Whether you choose to cultivate your aloe seeds indoors or out, they will not germinate if the temperature drops below 65 degrees Fahrenheit.
Pour equal parts of perlite and sphagnum peat moss into the containers. You will need one shallow but wide container for each aloe plant.
Spread the seed on the surface of the soil and cover very lightly with sand.
Fill a tub or bowl with enough water to reach halfway up the sides of the planting pots. Place the pots in the water and allow them to remain there until the surface of the soil is wet.
Remove the pots from the water and cover each pot with plastic wrap or place them in plastic bags.
Place the pots in an area where they will receive lots of light, but not direct sun. Your seeds should germinate within three weeks.
Acclimate the seedlings to less humid air by lifting the plastic from them, gradually, over the course of a few days until it is completely removed.
Water the seedlings with a plant misting bottle or the fine mist from your hose. The soil needs to be moist, not soggy.
Fertilize the seedlings when they reach 1/2 inch. Feed them with a half-strength solution of liquid, water-soluble 20-20-20 fertilizer on a weekly basis.