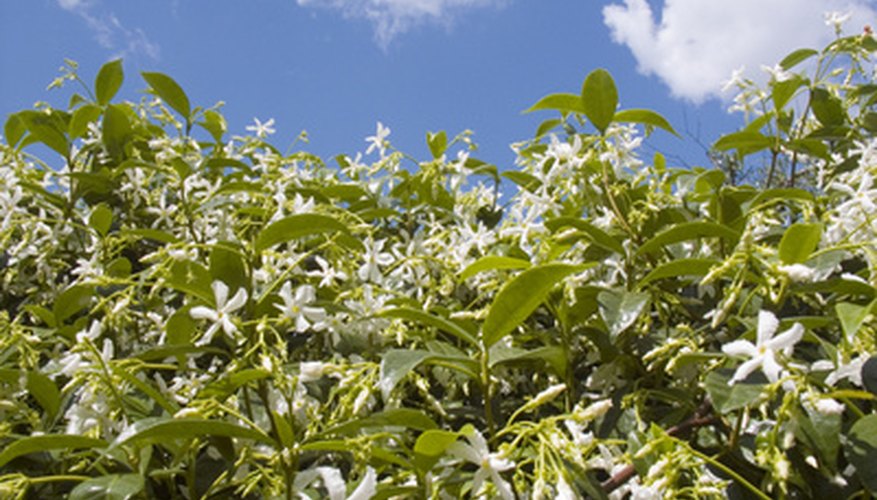 Pure white flowers on a glossy, dark green curtain of leaves makes star jasmine one of the most charming vines in the garden. Depending on climate, the small, five-petaled blossoms appear anytime from mid-spring to summer, always when weather is warm. It may be grown on a trellis or fence as a vertical feature or allowed to sprawl as a ground cover.
Taxonomy and Nomenclature
Also called confederate jasmine, the star jasmine's botanical name is Trachelospermum jasminoides, and it is a member of the dogbane family, Apocynaceae. Other species of plants may have the common name star jasmine, too. For example the downy jasmine (Jasminum multiflorum) is sometimes called a star jasmine. Asiatic jasmine (Trachelospermum asiaticum) is sometimes called yellow star jasmine.
Nativity
Star jasmine is native to the sunny areas in woodlands across Korea, Japan and eastern China.
Description
Reaching a mature height or sprawl of 20 feet, this woody vine is lined in small oval leaves that are glossy, dark green and feel waxy. Clipping the stem or leaf causes a milky white sap to ooze. In the warmth of spring and early summer, scores of five-petaled white flowers appear in loose clusters, called cymes, at the ends of new vine tips. They are fragrant, especially at dawn and dusk. As the pinwheellike flowers age, they blush antique white or ecru-yellow. In winter the foliage may turn burgundy-green as frosty cold nights are alternated with sunny days.
Hardiness
Rated for growth in USDA hardiness zones 8 through 10, this vine may lose some of its leaves when winters are unusually cold in Zone 8. In protected, sheltered garden sites in Zone 7, this vine may survive but will die back to the roots or lowermost buds on vines each winter. Gardeners in western North America often use the Sunset Climate Zones, with which this vine is appropriate to grow in zones H1, H2 and 8 through 24.
Growing Requirements
Plant star jasmine in a fertile, moist but well-draining soil of any pH. It handles full sun to lightly shaded exposures, from more than eight hours of direct sunlight daily to dappled sunlight as under a large shade tree. Flowering is diminished if less than four hours of direct sunlight is available. In cold or arid climate regions, do not plant exposed to winds. Drier soils in winter prevent any root or stem rot and promote a dormancy that tends to result in a burst of flowers in spring or summer rather than sporadically. This vine may be grown as a house plant. Prune it back hard, to a height of 6 to 18 inches, in spring if desired.