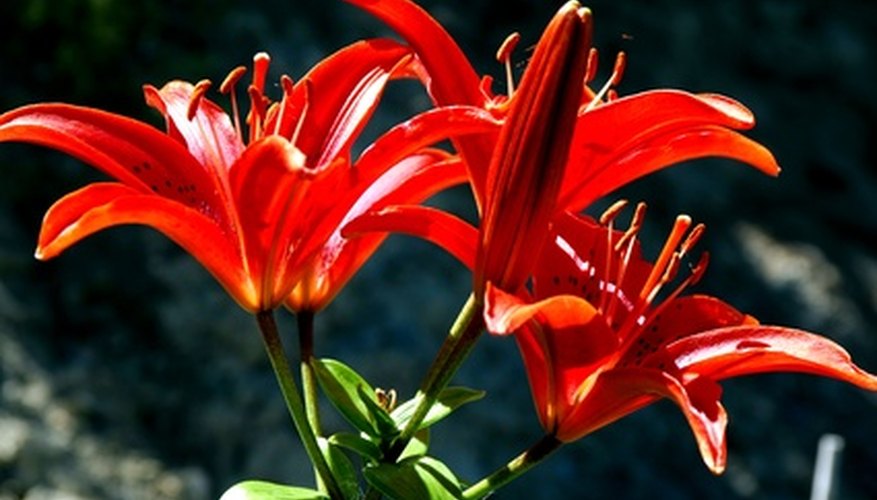 Asiatic lilies are hardy bulb flowers that can grow in USDA hardiness zones 3 through 10, withstanding minimum winter temperatures of -35 degrees Fahrenheit. Asiatic lilies are low-maintenance perennials that sprout red, pink, orange, yellow or white flowers in early spring. Asiatic lilies multiply profusely, requiring division of the clumps every few years. You can grow Asiatic lilies in borders, beds or in containers. Because they are so cold-tolerant and hardy, growing Asiatic lilies outdoors is easy for nearly any climate.
Plant your Asiatic lilies in a spot that receives full to partial sunlight, on a well-draining slope and among low-growing flowers or plants that will protect the tuber. Work organic compost and humus (leaf mold) into the soil at the time of planting.
Water your Asiatic lilies moderately and evenly once each week during the growing season when you receive less than 1/3 to 1/2 inch of rainfall.
Feed your Asiatic lilies with a water-soluble flower fertilizer once in early spring and again about one month after the peak of their blooming season. Follow the dosage instructions on the label.
Allow the leaves to drop off and don't remove them in the autumn. The dead foliage will help to feed and protect the Asiatic lily through the winter.
Protect the Asiatic lily bulbs from freeze damage by spreading 3 to 4 inches of organic mulch on the ground in the fall and removing the mulch in early spring.