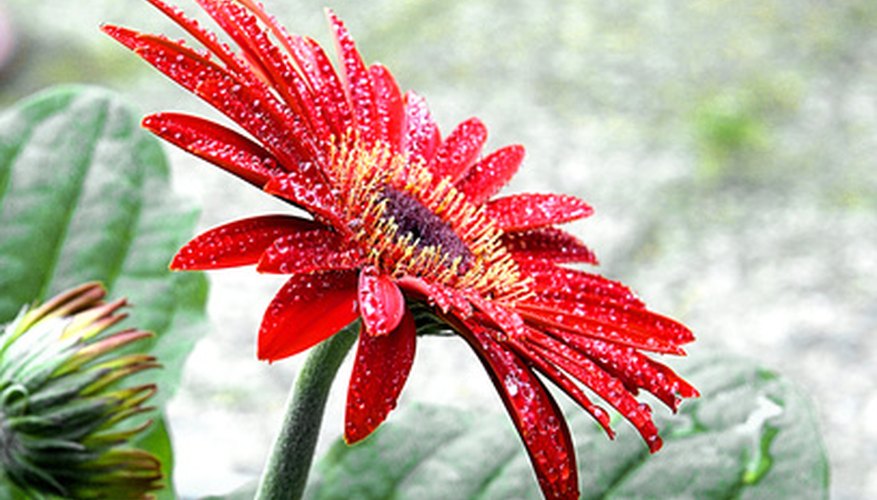 Pyrethrin is an extract of Pyrethrum chrysanthemums. All mums contain this substance, but the highest concentration level is found in Chrysanthemum coccineum, or painted daisies. Natural pyrethrin is used widely to manufacture permethrin, or parathyroid, insecticides, and isn't toxic in and of itself to you or your pets. However, other ingredients added to form these commercial compounds are. So use the real thing in its purest form--plant a daisy. Combine the natural beauty of painted daisies and other chrysanthemums with purpose. Plant these lovelies to repel many insects, which can't tolerate their natural insecticidal properties. When it comes to bugs, this beauty is a beast.
Choose chrysanthemum varieties appropriately hardy for your region and planting area. Situate them according to individual care requirements. Don't expect most mums to thrive in shady or soggy spots.
Plant low-growing borders around your gardening areas with chrysanthemum plants. Intersperse them throughout your garden, placing one about every 12 to 18 inches. Add extras around plants that are particularly vulnerable to insect infestations.
Grow chrysanthemums as container specimens. These are handy, mobile units for spots in the garden where direct planting isn't possible. They're also great for troublesome pest areas that aren't in the immediate vicinity of your garden.
Use chrysanthemums to add protection to your property beyond the garden. Create attractive low-growing edgings along drives and walkways with chrysanthemum plants. Taller varieties serve well in flower beds around the perimeter of a home. They're also stunning when used as backdrops for shorter feature plants. Plant small chrysanthemums in window boxes.
Cut chrysanthemums in full bloom, dry the flowers and grind to a powder. Spot treat individual plants by sprinkling the homemade insecticide on its leaves. Store in an air-tight container in a cool, dark spot.
Things You Will Need
Chrysanthemums

Air-tight containers
Tip
Chrysanthemums are effective against root nematodes (the bad ones), aphids, caterpillars, grasshoppers, thrips, coffee bugs, moths and flea beetles. They even repel Japanese beetles.
Warning
Read labels carefully when purchasing commercial insecticides. Pyrethrum is made from chrysanthemums and is effective for low-toxicity pest control. Permethrins are man-made products commercially formulated to chemically mimic pyrethrum--but these compounds are highly toxic.