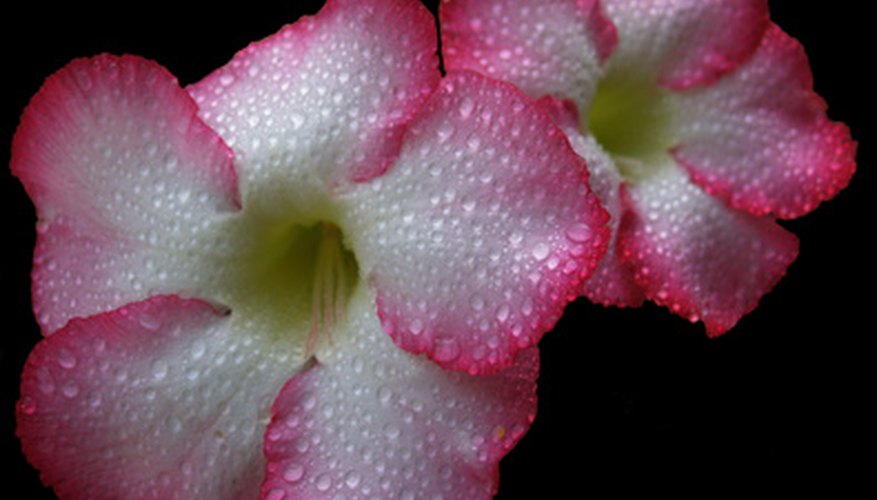 Though its colorful, five-lobed flowers bear some superficial resemblance to the simple flowers of species roses, desert roses (Adenium obesum) are fleshy-stemmed, flowering succulent shrubs native to East Africa and southern Arabia. Cultivated varieties of desert rose are distinctive because the flowering branches arise from a caudex or round, fleshy stem base. The leaves are rounded and flattened, and the bark is a smooth gray. Desert roses can be grown outdoors in hot dry areas where the climate resembles their home regions. They are popular as indoor plants and can be grown successfully with a little care and attention.
Care and Feeding
For indoor culture, desert roses require full sun and low humidity. Ideally specimens should be in unglazed clay pots, since the porous nature of the pots allows soil to dry out more quickly than the same potting mix in plastic containers. Soil should be very dry, as wet soil causes rot. Water by saturating the pot until water runs out the bottom drainage hole. Feed sparingly and discontinue feeding in winter. The plants do not need much pruning, except to encourage branching when young.
History and Interesting Facts
Adenium was discovered by Swedish botanist Peter Forsskal in 1772 and first described in his book, Flora Aegyptiaco Arabica, published in 1775. A specimen native to Aden was delivered to the Royal Horticultural Society's Garden sometime in the first half of the 19th century. In 1883, an illustrated article about A. obesum was published in Curtis's Botanical Magazine, one of the pre-eminent horticultural publications of the 19th century. Today the plant can be seen in desert plant displays in the glass houses of botanical gardens and outdoors at California's Huntington Botanical Garden.
Varieties
There are a number of varieties of desert rose available commercially. Popular ones include the pink-flowered 'Desert Rose'; 'Uranus,' which has white blooms with pink edges and 'Red Desert Rose,' with scarlet flowers. Lovers of variegated plants will like 'Golden Variegated,' which has green and gold leaves.
Relatives
Adenium is a member of the Apocynaceae or dogbane family. Plants within the family include vines such as allamanda and mandevilla, as well as plumeria, which bears sweet-smelling flowers favored by lei makers. The garden stalwart amsonia is also a dogbane, as is vinca, the ubiquitous ground cover. Over the years the milky sap of some Apocynaceae family members have been used for types of rubber. Some genera and species have edible fruit while others, most notably catharanthus or Madagascar periwinkle, have been used for medicine.
Warning
Adenium's plant parts are poisonous, so care should be taken when it is grown where young children are present. Leaves may drop off indoor plants, particularly in the winter, and should be swept up and discarded to avoid ingestion by children or pets.