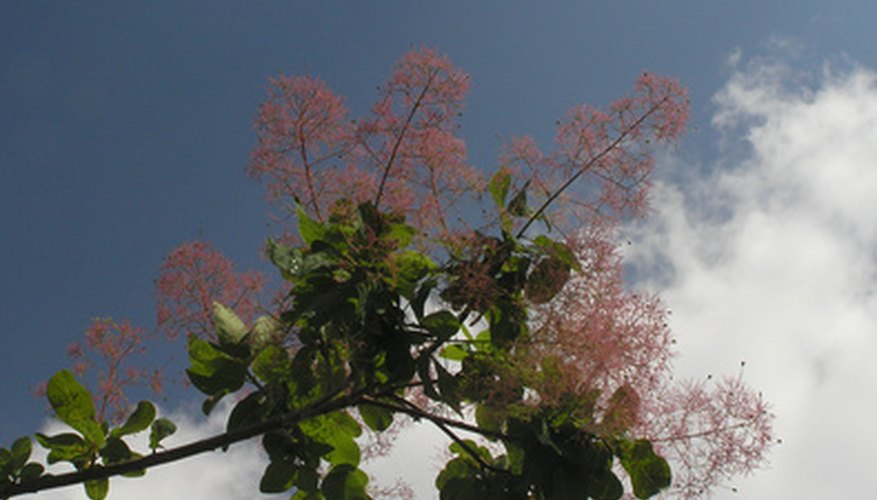 Maples, oaks and other massive shade trees can provide relief from Arkansas' hot summer sun and bring autumn brilliance to the Boston Mountains They aren't, however, capable of the spring and summer floral displays put on by Arkansas' flowering trees. There's a place for both in your landscape plans, provided you have the room. Flowering trees are most effective when they provide blooms and fruit over a period of months.
American Smoke Tree
A small tree usually standing between 15 and 30 feet high, Arkansas' smoke tree (cotinus obovatus) takes its name from 6-to-10-inch clusters of small flowers interspersed with thin red or purple stalks. The stalks create the smokey effect for which the trees are named. Berries occasionally develop on the clusters, adding to the illusion of smoke.
Smoke tree's foliage, however, outshines it unusual flowers. Progress ing from soft pink in the spring to blue during the summer, they peak in autumn in a rainbow of reds, orange, gold and purple. This low-maintenance tree is drought and pest-resistant, growing in soils from sand to clay and with a wide pH range. Plant it in full sun and prune it to the ground each winter for maximum flowering and autumn color.
Grancy Graybeard
Grancy Graybeard (chionanthus virginicus) is often called fringetree. Rach spring, t This 20-foot tree with glossy deep green leaves produces fragrant blossoms with narrow white fringe-like petals. The cascading blooms resemble an elderly man's beard, accounting for its whimsical name. Brown oval 1-inch fruit appears in late summer.
Grancy graybeard grows along Arkansas streams and in damp woods with rich soil. It prefers well-drained locations in full sun but tolerates partial shade from larger trees. Small mammals and birds feed on its fruit.
Golden Raintree
Adding autumn-blooming golden rain tree (koelreuteria paniculata) to an ornamental garden is and ideal way to extend the blooming season. An effective shade tree, golden rain tree reaches 30 feet with an equal or greater spread. Its delicate leaves turn yellow in the fall, at the same time it produces large yellow flower clusters and 2-inch purple seedpods.
Trees can handle most kinds of soil, according to Floridata.com. Full sun produces maximum flowering and fruit. Young trees do best in loose well-drained soil with regular watering. Mature trees tolerate drought, pollution, and heat.
Golden rain tree self-sows readily, especially in warm locations. Remove seedlings promptly to prevent the trees from becoming invasive.