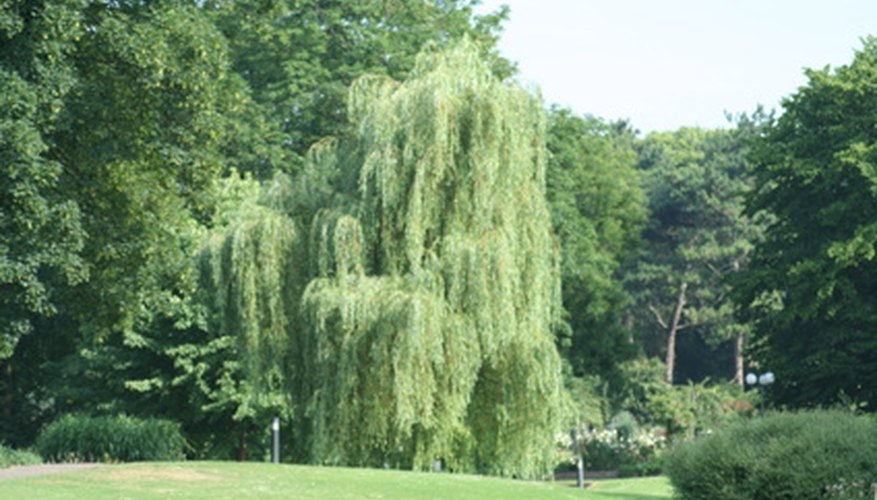 Over 400 willow trees exist today. Willow trees are deciduous trees found primarily on moist soils in cold and temperate regions of the northern hemisphere. They are very cross-fertile, and numerous hybrids occur, both naturally and in cultivation. They form concentrated canopies of leaves that identify their varieties because of the unique way that they form.
Weeping Willow (Salix x sepulcralis)
The most popular willow tree is the weeping willow, which is a hybrid of Peking willow (Salix babylonica) from China and white willow (Salix alba) from Europe. Its tree branches seem to bow down as if weeping; hence the name weeping willow. The tree has pinnately, thin, flat, green leaves that turn yellow in the fall. The flowers are yellow and radially symmetrical. Weeping willows bear long pod, fleshy, brown fruits that birds and squirrels eat. Weeping willows can grow up to 40 feet tall with a canopy spread of up to 30 feet. The tree can do well in various soil types, but prefers a well-draining variety.
Contorted Willow (Salix matsudana)
Also known as the Chinese willow, contorted willow is a species of willow native to northwestern China. It is a medium-sized to large, upright spreading tree of about 30 feet in height with a 15-foot-spread. Its branches and twigs appear contorted and twisted. The branches grow up at an acute angle almost in parallel to the trunk, and then curve back to the horizontal. The leaves are narrow, light green and measure 4 to 10 centimeters long and 1 to 2 centimeters wide. The flowers are catkins produced early in the spring.
The branches tend to display different characteristics each season, growing in different directions as each season passes. The winter branch pattern is most interesting and accounts for the popularity of the tree.
Black Willow (Salix nigra)
Black willow, also known as swamp willow, Goodding willow, southwestern black willow, Dudley willow and sauz (Spanish) is the largest willow of about 90 species native to North America. This fast growing tree does not live very long, with the average age of 55 years, but it can grow up to 140 feet. The black willow is one of the most commercially important of North American willow trees because of its dense root system used for stabilizing eroding lands and wooden products derived from the tree.
Flowers bloom in February through late June. The flowers contain nectar that attracts insects which aid in pollination. Just like insects, the wind also aids in pollination by carrying pollens from tree to tree. The seeds mature 45 to 60 days after pollination; small light-brown capsules begin to split open and shed minute green seeds that have a hairy covering.