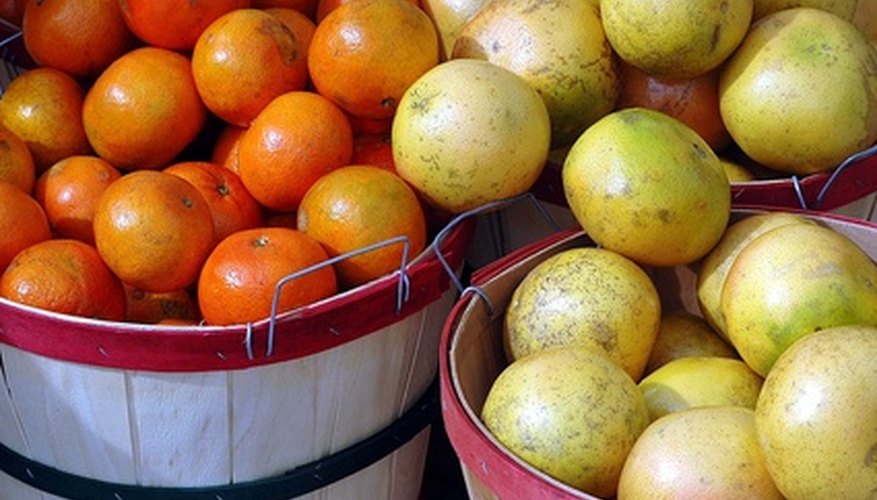 Grapefruit trees are relatively young types of citrus trees that are a cross between an orange and a pummelo, which is the largest citrus fruit in the western world. These trees are relatively easy to grow as they have few problems that threaten their lives. Different varieties come in various sizes. While some varieties, such as Ruby Red grapefruit trees, come in dwarf sizes, others types are too tall to grow under power lines.
Duncan
Duncan grapefruit trees are large productive fruit trees. This type of grapefruit tree is believed to be the most cold-hardy variety, according to the Purdue University Center website. The tree is named for A.L. Duncan who first cultivated this type of grapefruit tee in 1892 in Dunedin, Florida. These trees produce grapefruit that are pale to light yellow in color. Grapefruit from a Duncan tree have a smooth surface and a chamois flesh color. Duncan grapefruit is exceptionally juicy and has continued to be the standard for excellence in Florida grapefruits. For many years Duncan was the top cultivator in both Florida and Texas, but today it has been replaced by trees that produce grapefruits with fewer seeds.
Foster
Foster grapefruit trees originated in Ellenton, Florida and were first cultivated by R.B. Foster in 1907, according to the Citrus Page website. The fruit from Foster trees produce grapefruit with 13 or 14 segments that have pink walls with about 50 seeds or more. This large strong tree produces medium to large fruit that are oblate to spherical in shape. Grapefruit are medium to light yellow in color, but can also have pink rinds.
Marsh
Marsh grapefruit trees produce medium size fruit with only a few or no seeds. It is the most planted type of grapefruit tree in Florida, as well as the leading variety worldwide. They're large spreading trees that yield much fruit. Marshes are only grown in extremely hot climates such as Florida, Texas, California, Arizona, Australia, South America, South Africa, India and Israel. Grapefruit from marsh trees are oblate to spherical in shape and have a rind that's moderately thin, although tough. Marsh trees mature later than any other type of commercial variety. The surface of the fruit is smooth with the flesh buff-colored, tender and juicy, although the flavor isn't as distinct as other varieties.
Star Ruby
Star ruby grapefruit trees need humidity and steady heat to grow, although they can't tolerate extreme drought or high heat. These trees produce grapefruit with a yellow peel that has a red pulp. This variety is susceptible to pests, infections and cold weather and isn't as vigorous as other types. Star rubies grow slower than most other types of grapefruit trees. Fruit from this tree is low-seeded or even seedless, although it has a good flavor.