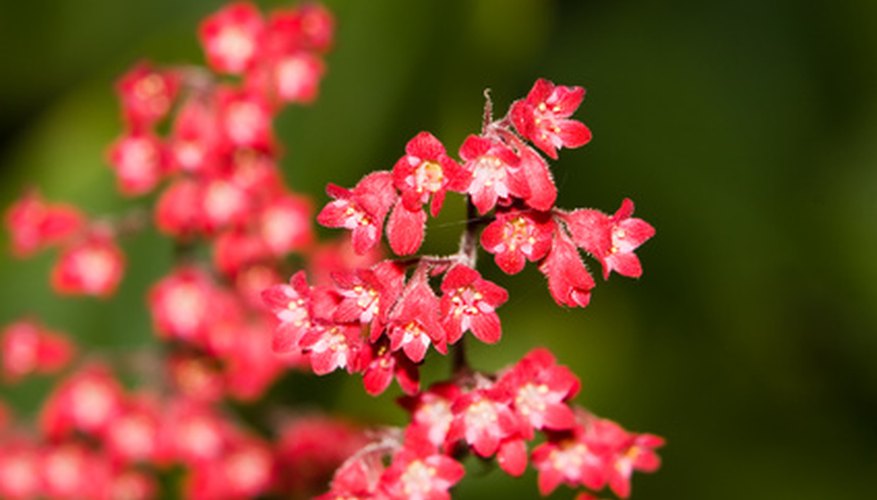 Coral bells, also known as alum root, provide a perennial flower with a dense foliage base. Tiny bell-shaped flowers appear in early summer atop thin, stiff stems that reach 1 to 2 feet above the foliage. The spent blooms will produce seed pods in late summer. Propagate coral bells by dividing the rootball or harvesting seed pods.
Divisions
Measure the width of plant before digging it up. The width will indicate how far apart to plant the divisions. Use the shovel handle to gauge the plant's width.
Dig up the plant in early spring or early fall.
Divide the rootball with your hands, splitting it down the center. Use the shovel if necessary to cut through the roots.
Choose a full-sun to part-shade location to plant the divisions. Dig the holes twice as deep and wide as the division to loosen the soil. Allow the same distance between divided plants as the original plant was wide.
Backfill the hole so the division will be at the same height in the ground as it was before. Water well after transplanting.
Seeds
Collect the seed pods that appear in late summer to early fall if you did not cut the stems of the flowers.
Split the dry pods to remove the seeds. No need to separate the chaff from the seeds. Place the seeds in an envelope or plastic bag and put in a cool place until ready to plant. The seeds can be placed in the refrigerator.
Plant the seeds indoors in March to start seedlings for transplanting outdoors, or plant the seeds outdoors in the spring after danger of frost has past. Use starter seed packets, complete with potting mix, or add soil to a flower pot to start seedlings. Moisten the soil and sprinkle the seeds on the soil.
Place the planted seeds in a sunny location or under a grow light and keep moist using a spray bottle. The plant trays or pot can be covered with plastic to retain moisture. Remove the plastic when the seedlings appear, which should occur in less than two weeks.
Plant the seedlings outdoors, about 12 inches apart, in the spring after danger of frost. The soil should be worked to at least 6 inches. If planting seeds outdoors in the spring, work the soil to 6 inches, moisten the soil and press the seeds into the moist soil.
Things You Will Need
Shovel

Starter seed pack or flowerpot
Tip
Seeds can also be sown in the fall. Scrape the soil with a garden fork or work the soil down a few inches. Moisten the soil and sprinkle the seeds. In the spring, gently pull out weak sprouts to reduce crowding.