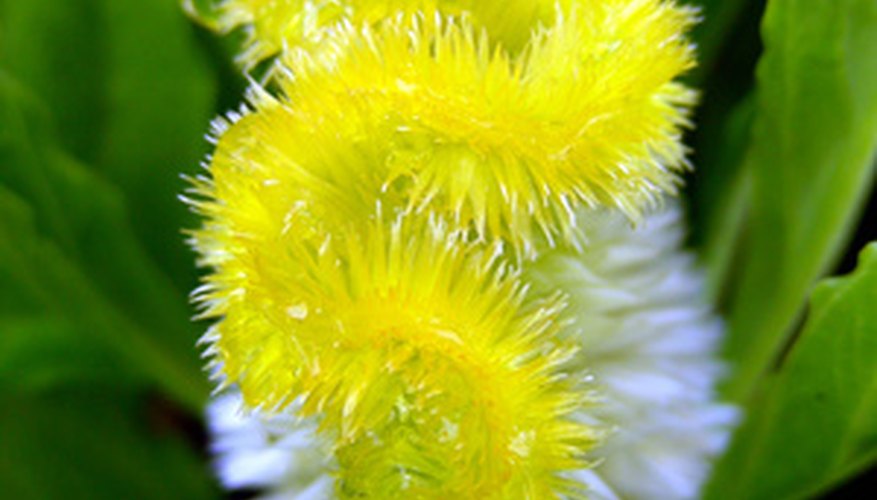 Annual flowers are available in sizes and colors to fit any gardener's need or preference. With a little planning, you can plant annual flowers that provide garden color all season long, filling in the gaps left by perennial plants limited blooming periods. Choose varieties with continuous season-long growth habits, and you will have flowers blooming from spring well into late summer and fall.
Salvia (Salvia splendens)
Salvias are easy annual plants to grow. Tough and drought-resistant, salvias are a good choice for the hot, dry days of late summer. Also commonly referred to as scarlet sage, salvias are available in a range of colors besides red, including maroon, pink, purple, salmon and white. The flowers are borne on upright spikes over dark green leaves and bloom continuously from spring through fall.
Flowering Tobacco (Nicotiana)
Nicotianas are enjoyed for their clusters of tubular, star-faced blooms in colors that include white, pink, red and pale green. The flowers are fragrant at night, providing special delight to late summer evenings. The Domino Series of nicotiana grow 12 to 15 inches tall and tolerate the heat and sun of late summer well. The Nicki Series are particularly fragrant and come in a wide range of colors.
Sweet Alyssum (Lobularia maritime)
These dependable, easy-care, low-growing annuals bloom from early summer to frost. Tiny clusters of flowers in shades of pink, rose, purple and white cover trailing mounded plants with small, narrow green leaves. The term "sweet" refers to the honey scent of the flowers. If you cut the plants back by one-half one month after the first blooms have faded, you can encourage a new crop of flowers that will last well into late summer.
Celosia (Celosia argentea)
Celosias, also referred to as cockscomb, produce velvety flowers that grow in irregular, unusual forms. The flower heads can grow to diameters ranging from 4 inches to more than 12 inches across. Plumosa celosias have feathery, plume-shaped blooms. Crested cockscombs (C.cristata) sport the curled, fan-shaped flower clusters that are reminiscent of a rooster's comb. Celosias flowers come in shades of yellow, orange, red and cream providing blooms that last well into late summer and fall. Celosia blooms make excellent dried flowers, whose colors last almost indefinitely.
Ageratum (Ageratum houstonianum)
Ageratums produce fuzzy clusters of blue, pink or white flowers on tidy mounds of dark green leaves. The fluffy blooms are long-lasting, making ageratums a reliable annual for late summer to fall flowers. Traditionally used as an edging plant, taller varieties of ageratums are available to grow as fillers for the perennial border. These taller cultivars make particularly nice additions to cut flower arrangements.
Tip
Remove spent flowers regularly throughout the growing season to keep annual plants in bloom from late summer into fall.
Warning
Nicotiana is poisonous when ingested. Take care when growing this plant where children or pets can reach them.