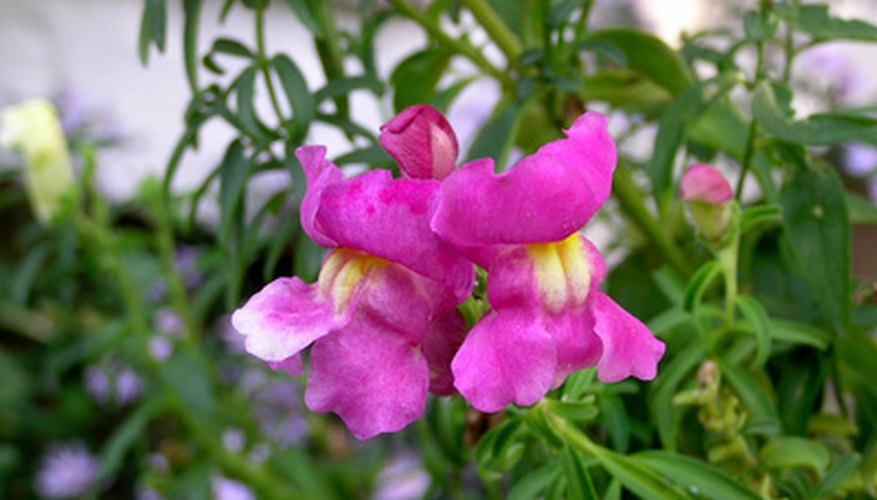 Snapdragons (Antirrhinum majus) are one of the oldest garden flowers, cultivated by the Romans and spread from southern Spain throughout the empire. The name comes from irregular shape of the tubular flower, which has upper and lower lobes that "snap" when pressed from behind. Modern varieties have more open, sometimes frilly or even double flowers. These come in a wide variety of shades, almost anything but true blue.
Small to Tall
Varieties that stay 8 to 12 inches tall are called dwarf snapdragons, or sometimes Antirrhinum nanum. They have short flower spikes and are often used in masses for their bright colors. Medium snaps reach18 to 24 inches tall, with flower spikes accounting for at least half of that height. They make solid, wind-resistant garden plants that never need staking. Tall varieties such as the Rocket or Axiom series are best for cutting, reaching 36 to 42 inches. Breeders are constantly improving the flowers, selecting for stronger stems, shatter-resistant flowers and tapering spikes.
Mixtures and Named Varieties
Seeds and starts often come in mixtures, with flowers in pink, peach, bronze, yellow, red, and white, but you can find individual varieties such as Black Prince with crimson flowers and bronze leaves, Royal Bride, tall, with pure white flowers, and Twinny Peach, an All-America Selections winner for 2010. Madame Butterfly is a popular double-flowered, medium-height snap mixture. Bronze Dragon is notable for its dark foliage as well as its purple and white blossoms.
New Directions
While the common snapdragon is a perennial hardy to USDA zone 7, it is usually grown as an annual. Antirrhinum braun-blanquettii, a yellow flowered species native to Spain, is hardy to zone 5 (possibly 4) as well as being drought-tolerant, definite advantages for many gardeners. Antirrhinum Dulcinea's Heart, a hybrid between the two, is cold hardy and sun-loving, with yellow and apricot flowers. It should have sandy soil and little or regular watering.