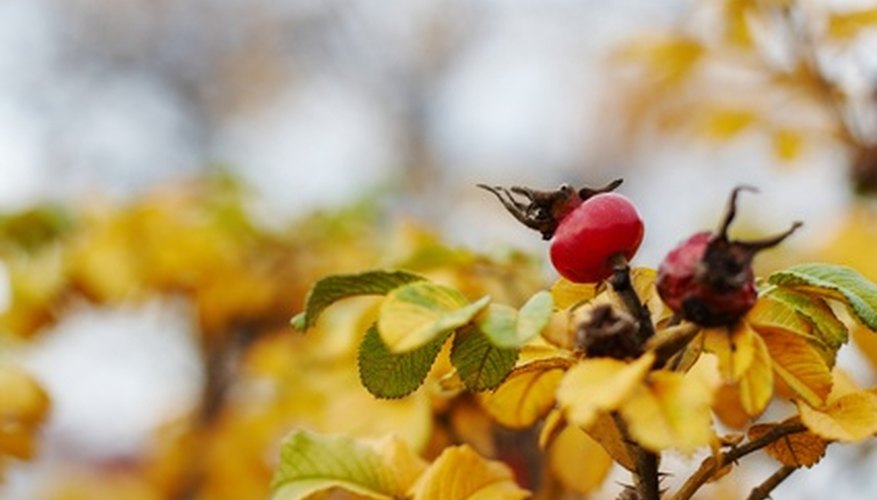 Rose hips to a lot of people means Vitamin C. To a rosarian, or even an amateur gardener, it means possibility. The rose hip, or seed pod of the rose tree, is full of potential rose bushes just waiting to be potted up and grown. It takes a minimum of three years for a rose seedling to reach maturity, according to rosarians at the Santa Clarita Valley Rose Society in California. For anyone who appreciates the beauty of a rose, waiting for the seedling to mature is well worth the time it takes.
Cut the rose hip in half and remove the seeds.
Mix together one cup of purified water and 2 tsp. of household bleach.
Place the seeds in a strainer and pour the bleach solution over them. Rinse with water.
Place the seeds in a small bowl and pour peroxide over them until they are covered. Allow them to soak for 24 hours.
Place the seeds in a clean strainer and rinse well with water.
Spread the seeds on a towel and use a toothbrush or other small brush to scrub each one. You will need to remove all the pulp from each seed. Spread the seeds out on a clean cloth towel and scrub them with a brush to remove all pulp around each seed.
Fill the seeding flat with equal parts of potting soil and vermiculite and water it until all the water drains from the bottom.
Plant the seeds 1/2 inch deep into the soil. Spray the soil with a mixture of three parts of water and one part of hydrogen peroxide. Cover the tray with plastic wrap and place in the refrigerator where it should remain for six weeks.
Place the flat outdoors, in direct sunlight, after all danger of frost has passed. Keep the soil moist, but not soggy. The rose seeds should begin to germinate in six weeks.
Transplant the seedlings into their own pots when they reach 6 inches in height.