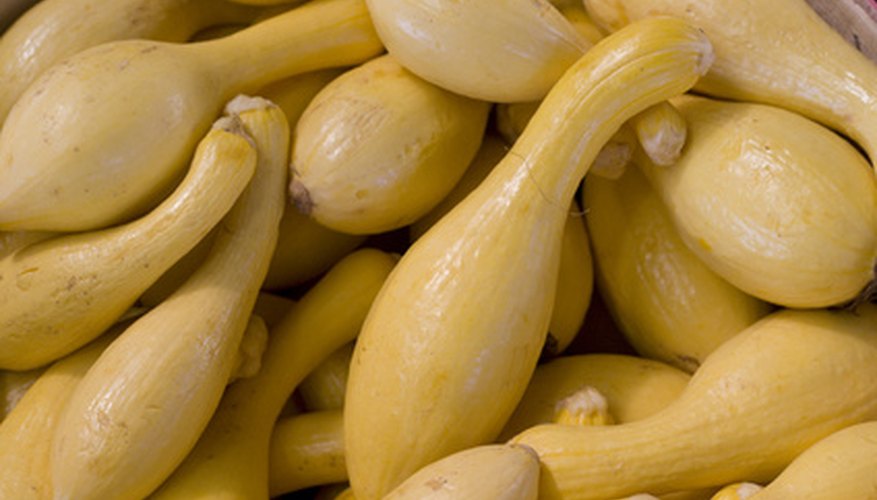 Summer squash like zucchini, straight neck and crookneck squash grow on compact bushes instead of the traditional vines of winter squash. Although plants are large, sometimes sprawling to 3 to 4 feet and reaching heights of 3 or more feet, once they reach maturity the plant ceases growing and sets fruit. Crookneck squash, named for its curved neck, matures quickly and produces abundant yellow fruit. If picked when they are young, these delicate fruits are tender and nutty and are served raw, steamed, boiled or stir-fried with tomatoes and fresh herbs.
Select an area that receives full sun for six to eight hours a day. Till to a depth of 8 to 10 inches, remove rocks and debris, and rake smooth.
Test soil in the fall or in early spring before planting. You can buy an inexpensive soil test kit at your local hardware or home improvement store. This provides a quick analysis of the nutrients in the soil and determines the pH of the soil. For a more in-depth soil test, contact your local extension office. Follow their instructions for gathering the soil sample and return it to the specified office. The extension office provides a written summary of the condition of your soil and recommendations for amending the soil to balance nutrients and adjust pH.
Amend the soil following the recommendations included in your test kit or in the written report provided by the extension office. Adjust pH to between 6.0 and 7.5 following the instructions for adjusting pH.
Plant summer squash in the spring once the soil warms and all danger of frost has passed in your area. Plant two to three seeds in a group to a depth of 1 inch, spacing groups 24 to 36 inches apart.
Water thoroughly and keep soil evenly moist until seedlings emerge in seven to 10 days. Thin seedlings to one or two healthiest plants when they are 3 to 4 inches high. Reduce water to once a week or whenever the soil dries.
Apply water-soluble fertilizer labeled for garden vegetables when the plants begin to bloom, and repeat in three weeks.
Harvest crookneck squash when they are 4 to 6 inches long for the tender young squash. Keep picking new squash to encourage the plant to continue producing new fruit.
Things You Will Need
Garden tools

Soil test kit

Soil amendments

Crookneck squash seeds

Water-soluble fertilizer