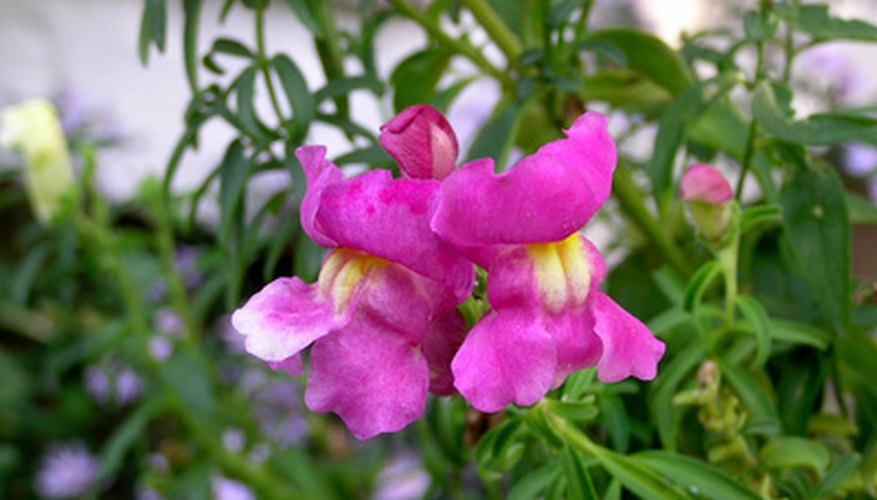 Snapdragons, biologically referred to as Antirrhinum, are a popular annual flower, though in mild climates they can be grown as a perennial. The range of colors and varieties is extensive for snapdragons and they do better in cooler spring and early summer temperatures than in the heat of the summer. For your garden you can select snapdragon plants that range in size from dwarf, which grow to 12 inches high, medium which grow to 18 inches, and large which can grow up to 3 feet tall and will need staking to keep their stems straight.
Insert a stake into the ground several inches deep--it should be close to the stem you wish to keep straight. Stakes should be placed next to your snapdragon plants early in the growing season so it will not damage the foliage that develops later in the season.
Use soft cloth strips to tie the snapdragon stem to the stake as the stem begins to grow tall. As more snapdragon spikes develop on your snapdragon plant, you may need to carefully add more stakes so the stake is next to the stem, keeping it straight.
Avoid planting your snapdragons too close to other plants, bushes or other objects that may cause your snapdragon stems to grow crooked. When you initially plant your snapdragon plant, there may not appear to be any interference, but a snapdragon plant can grow quite large and will grow crooked if the stem is blocked.
Keep your snapdragon plants healthy and strong by planting them in sunny locations with well-draining soil, and by watering regularly. Healthy snapdragon plants will have strong, straight stems and be less likely to grow crooked.