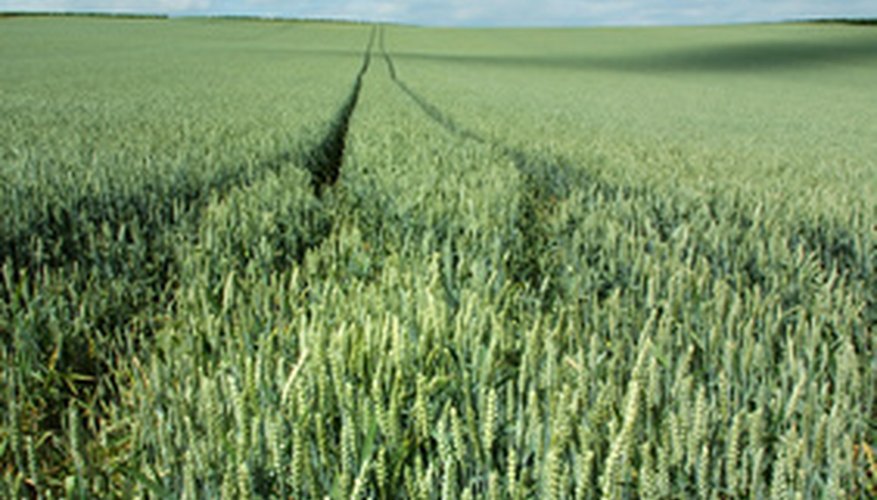 Ryegrass is a type of turf grass grown as a groundcover in landscapes and as a forage source for livestock and wildlife. With about 12 species, and 50 different varieties, ryegrass grows throughout the United States. This type of grass adapts to various climates and soils. Healthy ryegrass spreads readily through tillers, or runners, that spread outwards from clumps of mature grass. However, a variety of diseases and conditions can adversely affect the health of ryegrass.
Cottony Blight
Cottony blight frequently affects ryegrass grown in warm weather, particularly in southern soils. This fungus creates small white spots in the lawn. Over time, these small spots grow and multiply to resemble the appearance of scattered cotton. This disease develops quickly during warm, humid periods. Under extreme conditions, the healthy appearance of a lawn changes in a very short period, replacing healthy stretches of green with the cottony, white substance. The best way to prevent the appearance of cottony blight is to limit watering during warm periods of high humidity and to refrain from over-seeding until the weather cools late in the year.
Ryegrass Staggers
Many types of fungus distress ryegrass, but one type creates havoc for grazing animals feeding on the grass. Ryegrass staggers is a type of disease that effects animals eating diseased ryegrass, but causes no harm to the grass. This disease is very important to farmers, as it causes serious illness in grazing cattle. Caused by a type of fungus, known as Neotyphodium lolii Latch, this disease causes walking difficulties in animals that consume the contaminated grass. The disease is present only in the seed heads of the affected grass.
Rust
Crown rust and stem rust commonly affect ryegrass grown in the northwestern and the northeastern segments of the United States. Stem rust occurs most often in the late spring and early summer, while crown rust often appears towards the end of summer or first part of fall. Rust diseases diminish the appearance of ryegrass in lawns and landscapes. Some types of rusts in forage grass cause respiratory conditions in horses and other grazing animals.