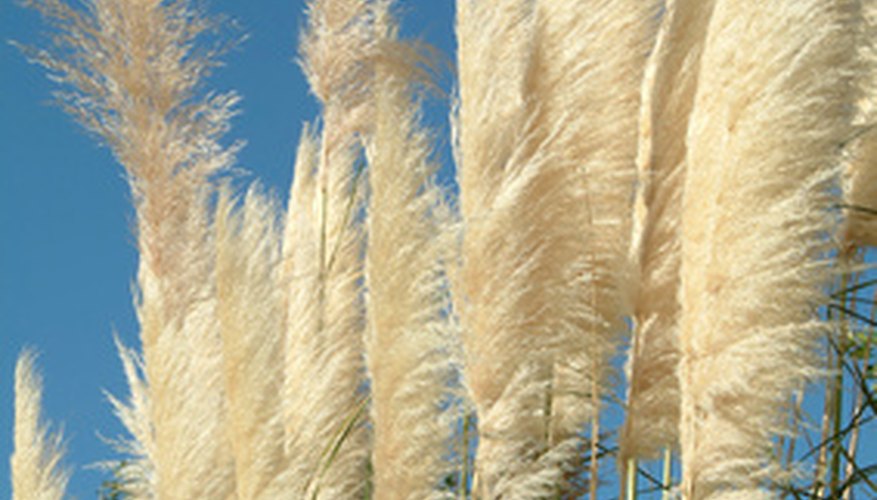 When your ornamental grasses grow out of their boundaries and it is time to divide and propagate them into new and smaller plantings, wait until it is time to prune. While the ornamental grass clump is dormant in late winter or early spring, prune it back severely to just above the soil. Then when the mass of grass is gone and you can see clearly, you can divide the clump into smaller pieces.
Spread the tarp near the grass clump.
Use the hedge shears to cut back all of the ornamental grass foliage growing from the clump. Cut back the foliage to 3 or 4 inches above the soil level. Discard the foliage.
Insert the shovel into the soil approximately 5 inches away from the outer edge of the grass clump. Begin digging around the grass clump with the shovel to loosen the clump from the soil. Continue digging until you can angle the shovel beneath the roots to remove the entire ornamental grass clump from the soil completely.
Lift the grass clump from the soil and place it onto the tarp. Use the knife to cut vertically down from the crown of the plant and through the roots. Divide the clump into as many smaller pieces as you can, making each piece roughly equal in size.
Return one grass clump to the same location. Plant the other clumps in other locations that receive full sun, planting them at the same depth as they were previously growing. Plant the clumps immediately and do not allow them to dry out.
Water the newly divided ornamental grass plants immediately and keep them evenly moist while they acclimate and adjust to the division and transplanting.