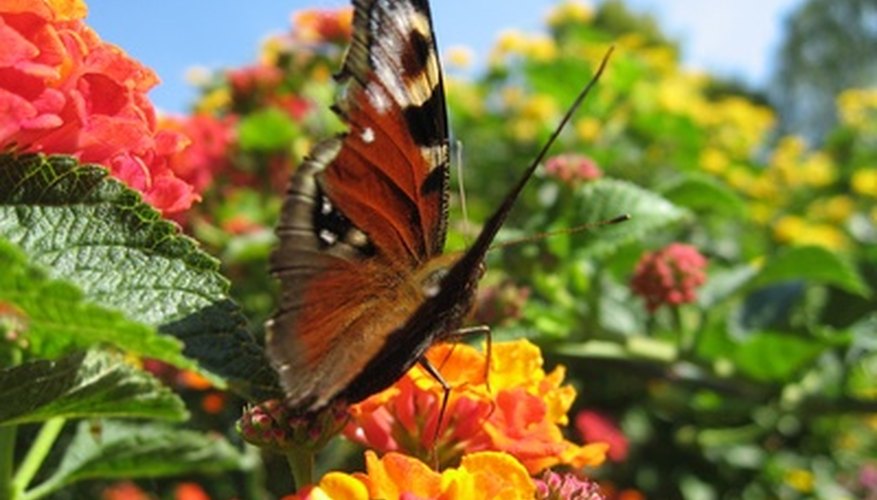 tagpfauenauge auf lantana image by Heike Loechel from Fotolia.com
North Texas experiences a humid subtropical climate with hot summers and mild winters. The North Texas region falls within the United States Department of Agriculture (USDA) Hardiness Zones 6 and 7. Gardeners in North Texas should select plants according to appropriate zone, intended use, cultural requirements and bloom time.
Hummingbird Bush
The hummingbird bush (Anisacanthus quadrifidus var. wrightii), also called the flame acanthus, belongs to the Acanthaceae plant family and naturally occurs along North Texas streams and riverbanks. This perennial shrub ranges from 3 to 5 feet in height, and features pale green leaves, pale bark and reddish-orange blossoms that appear from June through October. Hummingbird bushes adapt to various soil conditions, but prefer fully sunny positions. Hummingbird bushes generally perform well in perennial flowerbeds and hummingbird gardens.
Crossvine
Crossvine plants (Bignonia capreolata), perennial vines in the trumpet-creeper family (Bignoniaceae), feature red and yellow flower clusters that bloom from March through May. These vines often climb trees, fences and rocks. The deep green leaves turn purple or red during winter months. Crossvines like moist, acidic soils in partly shady to fully sunny positions. North Texas gardeners often plant crossvines in hummingbird gardens and butterfly gardens.
Blue Mistflower
Blue mistflowers (Conoclinium coelestinum), perennial members of the daisy family (Asteraceae), attract butterflies and bees. Mature mistflower plants reach up to 3 feet in height and display clusters of blue or purple flowers from July through November. This plant prefers moist, sandy or loamy soils in partially to fully sunny locations. North Texas gardeners often plant blue mistflowers as borders and groundcovers.
Texas Lantana
The Texas lantana (Lantana urticoides), sometimes called the calico bush, belongs to the verbena family (Verbenaceae) and naturally occurs along North Texas roads and streams. This shrub bears long, green leaves and blue-black fruit that contain toxins. Rounded clusters of red, yellow or orange flowers appear from spring through mid-autumn. This perennial prefers well-drained soils that receive full sun. North Texas gardeners mainly use lantana plants as groundcovers.
Honey Mesquite
The honey mesquite (Prosopis glandulosa) is a large shrub or a small tree that grows between 12 and 30 feet in height with similar spreads. This plant features spiny thorns, green leaves and flat, yellow or brown fruit pods. Small, yellowish flowers display from April through August. This pea family member (Fabaceae) prefers well-drained soils in full sun positions. The honey mesquite tolerates drought conditions once established. North Texas gardeners often plant the honey mesquite as an ornamental shade tree.
Bur Oak
Bur oak trees (Quercus macrocarpa), also called Savannah oak trees, belong to the beech family (Fagaceae). These large oaks often reach over 100 feet in both height and spread. This perennial tree features green leaves, long acorns and yellow or green blossoms that appear in April. This oak variety tolerates various lighting, moisture and soil conditions. The bur oak works well as a shade tree in North Texas landscapes.