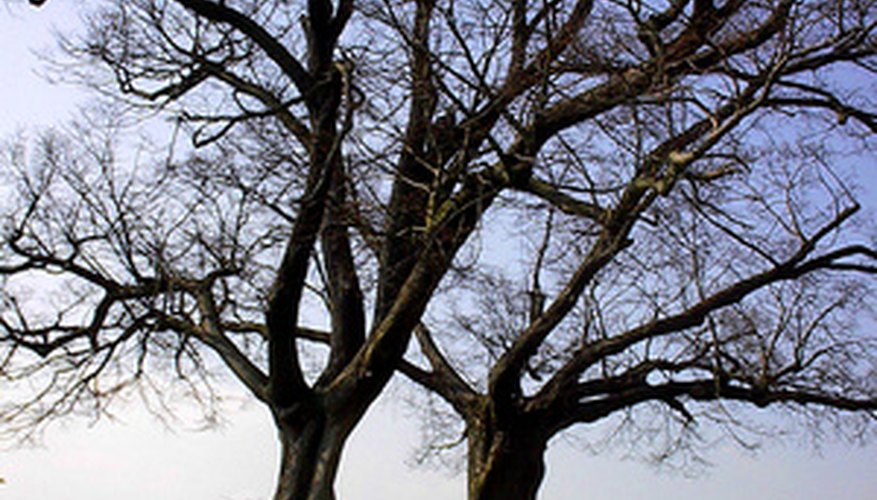 In English novels, lovers stroll down "lime avenues" heavy with fragrant yellow flowers. Yet what are these lime trees, and what are they doing in non-tropical England? As it turns out, the decidedly non-citrus linden trees, which the British call "limes," thrive not just in European climates, but in most of the U.S. as well. Try any of the Tilia species for their handsome shape, beautifully scented flowers and oval leaves, which in some circles are actually considered a gourmet treat.
Varieties
Most lindens produce fragrant, 3-inch yellow flowers, oval-shaped leaves and small, light brown fruits. They prefer sun or part shade and like slightly acid to slightly alkaline soil. Japanese beetles and aphids pose the biggest problems to linden trees.
The American Linden (Tilia Americana) is a pyramid-shaped tree when young that ends up in an oval shape when mature. It grows up to 75 feet tall and 45 feet at its widest point. The tree grows from zones 3 to 8. "Redmond" is the most common cultivar of the American Linden.
Littleleaf Linden (Tilia cordata) tends to stay under 60 feet and bears linden blossoms prolifically, which attract bees. Littleafs are hardy from zones 4 to 7. Cultivars include "Greenspire," "Glenleven," "June Bride" and "Rancho." Its leaves run between 2 to 4 inches, compared with other linden types, which grown between 4 to 8 inches long.
The Silver Linden (Tilia tomentosa) grows as a pyramid when young but tends to become more oval in silhouette as it matures. It needs more sun than the other lindens, which generally can take some shade. The silver linden commonly develops multiple trunks. It is hardy from zones 4 to 8. Cultivars include "Green Mountain" and "Sterling."
Fragrance
Linden makes a light, floral top note in commercial perfumes or homemade craft projects. Perfumes incorporating linden blossom include Linden Blonde Tabac, Vintage Soul by Curve, Believe and Pure White Linen Breeze. Blossoms or leaves are used in potpourri; flowers infuse olive or jojoba oil to make sweetly scented bath and massage oils.
Medicinal
Health treatments involving linden blossoms turn up in folk remedies and modern herbalism. "The Green Witch Herbal" recommends linden blossom tea for its soothing qualities, which can ease problems of sleeplessness, nervousness, bedwetting, colds, colic, headaches, premenstrual tension and menopause. If nothing else, linden blossom tea makes an interesting change from the more traditional herbal teas.
Alternate Uses
The leaves of the Tilia species, especially Littleleaf Linden, should be better known as an alternative vegetable crop, according to author Eric Toensmeier. Toensmeier includes the lindens in his book "Perennial Vegetables." He recommends eating the young leaves in sandwiches as a lettuce substitute or salad green. Although most mature lindens produce leaves too high to reach conveniently, coppicing the tree every few years--essentially, cutting them down to a few inches above the ground--will result in a linden shrub rather than tree.
Some ethnic and specialty markets also sell dried, crushed linden leaves as an herb for soups and sauces or to be ground into a flour to thicken stews.
Although most people dismiss the tree's fruits as inedible, some adventurous souls make a kind of alternative chocolate from them.
The flowers also make useful additions to candy and liqueur recipes, as well as to facial creams, according to herbalist Lesley Bremness.
Name Confusion
In England, the Tilia species, especially Tilia cordata, are known as lime trees, although they do not share a horticultural tie with citrus trees. Some people also only know them by their cultivars--hence, the "basswood" or "greenspire."