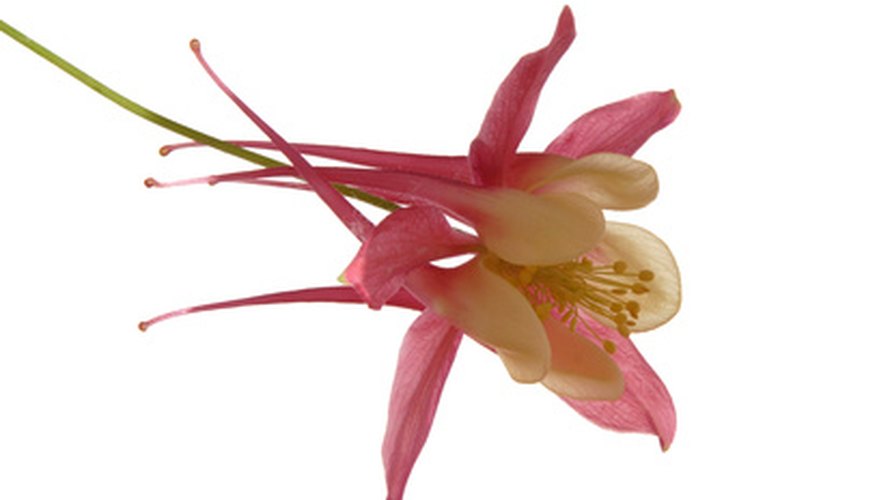 The rolling hills, wooded mountains and open fields of Virginia's terrain are home to many of the country's most beautiful native flowers, including ephemeral springtime bloomers and plants that produce blossoms nearly into winter.
Several of Virginia's native flowering plants were important or useful as food and medicine to Native Americans. Many are exceptionally well-suited for difficult woodland plantings; when used in the garden, many of these same plants attract a wide range of pollinators, butterflies and even hummingbirds.
Bloodroot, Sanguinaria canadensis
One of the earliest heralds of spring, bloodroot blooms in the woods of Virginia in late March, sending up pure white flowers with yellow centers. The plant's name derives from its brittle rhizomes, which when broken open reveal a bright red interior. The dusty green leaves feature a silver underside and tiny hairs on the upper surface, on which water beads up and glints like jewels.
Cardinal Flower, Lobelia cardinalis
The cardinal flower occurs mainly in wet, boggy lowlands throughout the state. Flower stems can be several feet tall, crowned by flaming red blossoms which are a favorite of hummingbirds and butterflies. The cardinal flower also occurs in a blue form, Lobelia siphilitica, though the blue variety prefers more shade than its red counterpart.
False Goat's Beard, Astilbe biternata
Non-native astilbes are favorites of home gardeners. Native astilbes, however, are much larger, growing between 2 to 6 feet tall and sending out long, feathery plumes of flowers in the early summer. Astilbe grows well in dappled shade, making it an excellent understory woodland plant.
Fringed Bleeding Heart, Dicentra eximia
Virginia's native bleeding heart, Dicentra eximia, appears in shaded woodlands across the state. Like its showier non-native cousins, the fringed bleeding heart produces long, curving flower stalks with pendulous light pink to magenta-colored heart-shaped blossoms. The foliage is deeply toothed and very fern-like.
Jack-in-the-Pulpit, Arisaema triphyllum
Another springtime bloomer, the jack-in-the-pulpit gets its name from the lidded flowers, which when lifted reveal a tall white corm in the center. By late summer, this corm matures into a cluster of red berries, much relished by forest wildlife. The plant's tuberous roots were also valued as a food source by Native Americans, who cooked it to reduce its bitter, peppery taste.
Sundrops, Oenothera fruiticosa
Also known as the narrow-leaf evening primrose, this yellow-flowered native flower occurs in dry woods and meadows, blooming from late spring into mid-summer. The plant occurs not only in Virginia but up and down the eastern seaboard.
Trillium, Trillium grandifolium
One of spring's most ephemeral flowers, trillium appears in the springtime just after bloodroot has finished blooming. Other trillium species are shorter and feature maroon red and mottled green flowers, but the foot-tall Trillium grandiflorum produces a 3-petaled, pure white flower above a whorl of 3 oval-shaped leaves. Trillium is extremely slow to spread, and is under threat of eradication by wildflower hunters and disturbed woodlands.
Turtlehead, Chelone glabra
Common in wildflower and formal gardens alike, the turtlehead derives its name from its globular white flowers, which strongly resemble the beaked face of a tortoise. The plant has also been selected for cultivars which produce pink and lavender flowers. Turtlehead flowers profusely throughout the summertime and into autumn and is a favorite of butterflies.
Virginia Bluebells, Mertensia virginica
One of Virginia's most recognizable spring flowers, bluebells appear in late March and early April in boggy, wooded lowlands, damp meadows and stream banks. Bluebells spread via woody rhizomes, which all bloom together in the springtime, giving the appearance of a blue sea of flowers wherever they occur.
Wild Columbine, Aquilegia canadensis
Less showy than its flamboyant European cousins, Virginia's native columbine still produces a flower more elaborate than many native plants. Occurring in lightly shaded woodlands, the columbine's pink-and-yellow flowers hold nectar which attracts hummingbirds.
Wild Geranium, Geranium maculatum
Also known as cranesbill, this low-growing, creeping plant blooms nearly all year long, making it a favorite of wildflower enthusiasts and pollinators alike. The plant features light purple flowers, and occurs along the edges of dry woodlands and lightly shaded meadows.
Wild Blue Phlox, Phlox divaricata
This early- to mid-spring bloomer spreads to form large, loose mats of velvety light-green, and sends up 12- to 18-inch stalks topped with light blue to lavender flowers. The blossoms are very aromatic, giving rise to another common name, Wild Sweet William.