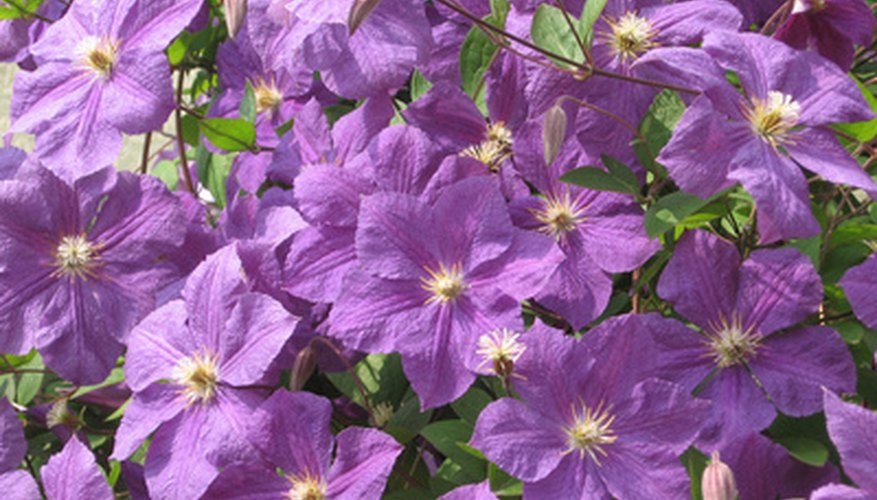 The flower family ipomoea is relatively broad, but its most famous members are morning glories and sweet potatoes. Members of the ipomoea are largely disease resistant, but they occasionally fall prey to a few diseases when otherwise stressed. If you find that your ipomoea repeatedly fall prey to the same disease, make sure their growing conditions are adequate or look for a more disease-resistant cultivar.
White Rust
White rust is caused by a fungus that commonly attacks ipomoea. In the preliminary stages of the disease, affected leaves will develop light-colored spots on their upper surfaces. As the disease progresses, powder-white pustules form below the spots and protrude from the undersides of the leaves. White rust is unsightly but not deadly. Prune the affected tissue as soon as the infection is spotted.
Anthracnose
Anthracnose is a fungal disease that usually sets in after a period of heavy rains. Mild infections begin as small brown spots with yellow rings on (usually young) leaves. As the disease progresses and the leaves grow, the brown spots spread and eventually form large blotches, which may fall out of the leaf, leaving irregular holes behind them. Eventually all affected leaves drop. Once one leaf is infected, the disease spreads quickly. If left untreated, anthracnose can kill weakened morning glories. To control the disease, prune all affected tissue. If the disease persists, spray the plants with a fungicide approved for use on anthracnose.
Sweetpotato Scurf
Scurf is a soil borne fungal disease that affects the edible root of the sweet potato. Sweet potatoes affected with scurf are marred by gray-brown or black infected areas. The disease does not spread to the foliage, and the infected areas are only skin deep. The sweet potatoes are still edible but unmarketable, but they do not store well. While there is nothing that can be done to save an infected crop, further infection can be prevented by sterilizing the soil and by planting certified disease-free plants.