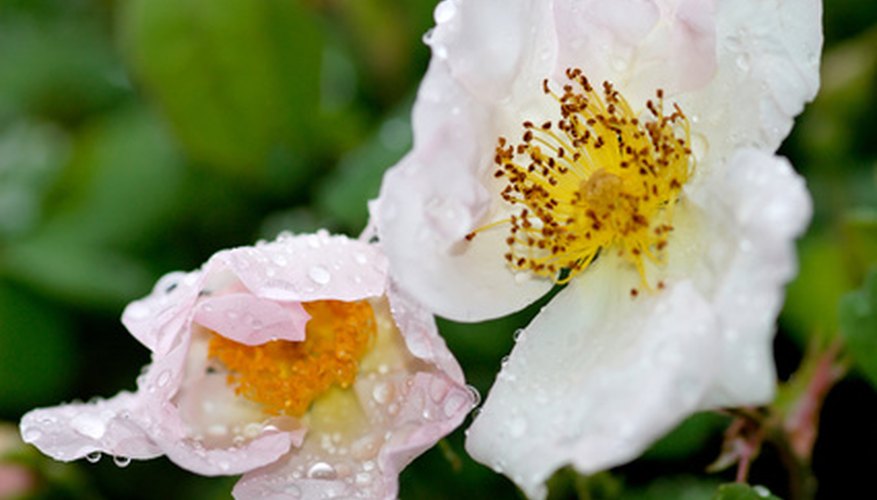 With the exception of Garrett County on its western border, the mid-Atlantic state of Maryland falls into U.S. hardiness zones 6 and 7. Maryland gardeners can safely beautify their yards with flowering trees rated hardy to 0 degrees F. The right trees will create garden color and interest even when their blooming seasons have come and gone.
Washington Hawthorn
A member of the rose family, Washington hawthorn (crataegus phaenopyrum) grows wild along streams and in Maryland's open woodlands. It shares all of the hawthorns' sharp spines--in this case up to 3 inches long. Its showy white May and June blossoms, brilliant fall foliage and bright red wintertime berries make gardeners look past the risk of being stabbed. The fragrant flowers are similar to apple blossoms. The red, yellow and orange autumn leaves make a striking combination with the tree's silvery bark and reddish twigs. Birds love the winter berries on the small (up to 30 feet) trees, and feel quite safe nesting in its prickly branches. Plant Washington hawthorn in full sun and moist, pH neutral soil. While it's vulnerable to rust, this is one of the lowest maintenance hawthorns.
American Witchhazel
The bark of American witchhazel (hamamelis virginiana) has provided countless generations of Americans with the all-purpose astringent liniment that bears its name. Growing wild in damp woodlands and bottomlands, this up-to-50-foot tree has the desirable habit of blooming between September and December, when other flowering trees are ripening their fruit and preparing for their winter sleep. Witchhazel produces fragrant yellow and orange flowers up to 1 inch long followed by brown seed capsules, which are a significant food source for many birds. Its pale green leaves become golden yellow in autumn. Plant these trees in partly shady to shady spots with rich, moist, acidic soils--loams are best. They handle urban pollution and wet soil but suffer if allowed to dry out.
Princess Tree
A native of China, the princess tree (paulownia tomentosa) blooms with large clusters of lavender trumpet flowers before its leaves emerge in the spring. Planted against a backdrop of dark evergreens, this fast-growing tree from China will be one of your spring garden's highlights. The princess tree normally measures 30 to 40 feet high and wide, according to University of Florida Environmental Horticulture Department professors Edward Gilman and Dennis Watson. Some specimens attain 50 feet. These trees are extremely effective in reclamation projects, tolerating urban pollution, poorly drained soil and drought. In your garden, however, they will love sun and moist, rich, well-drained soil. Soil type and acidity isn't important, but trees need some shelter from the wind. Vigorous self-sowers, all have pods holding as many as 2,000 seeds. Princess trees have rapidly growing roots that can break through sidewalks and make mowing difficult.
Resources