Growing plants in a whiskey barrel is not much different than growing in any other large container, though it does add a certain atmosphere and warmth to plantings that no modern plastic pot can hope to achieve. The main thing to consider when growing in wood is that it is permeable, and as such will dry out more quickly than plastic. You will need to check the pot regularly to ensure it is adequately watered.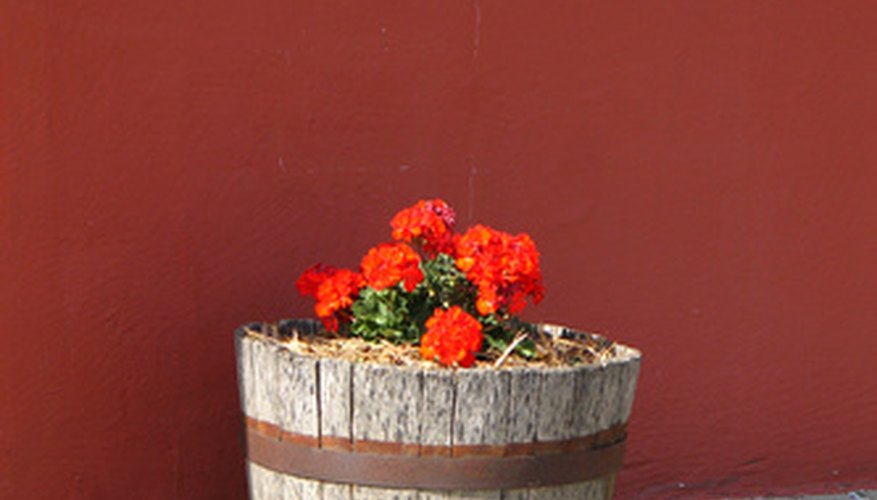 Take a half whiskey barrel (or if it is a whole barrel, you will need to cut in half with a saw) and turn it over.
Drill several holes in the bottom of the whiskey barrel near the edge and in the center for drainage.
Put the barrel in the location you have chosen for it. It will be quite difficult to move once it is full.
Add rocks in a layer to the bottom of the barrel to further aid drainage.
Fill the barrel to within a few inches of the top with a good quality potting soil (or if you think you may need to move it at some point, a soil-less mix, which is much lighter in weight than ordinary potting soil).
Add a couple of inches of good, fine compost to the top of the soil, for the nutrients, but also to act as a mulch to keep weeds down.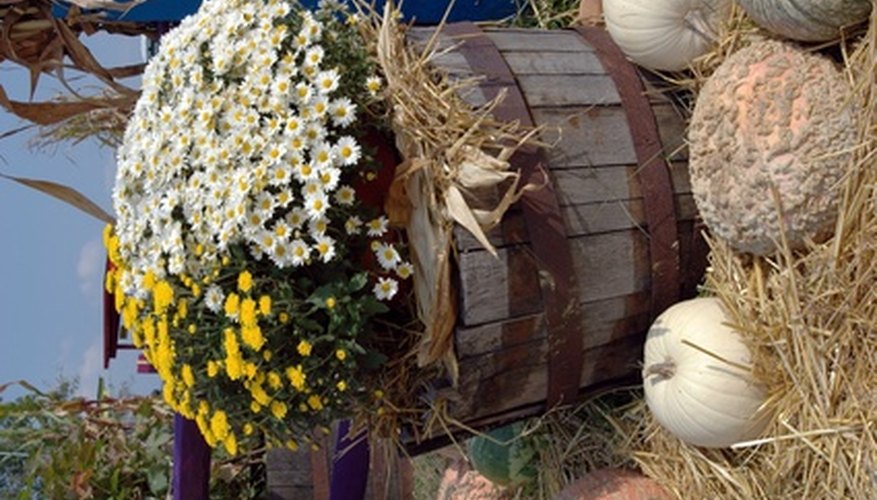 Add plants and water until the soil is evenly moist at least a couple of inches below the root level for the deepest plants. Keep well watered by watering any time the soil is dry 2 inches from the soil surface.
Fertilize every week or two with a gallon of diluted manure tea after regular watering to prevent burning plants.
Things You Will Need
Whiskey barrel or 1/2 barrel

Saw (optional)

Drill

Drill bit (3/8 to 1/2 diameter)

Rocks

Potting soil or soil-less mix

Compost

Plants
Tips
Containers dry out quickly, so plant accordingly. Brooklyn Botanic Garden lists a variety of drought-tolerant plants suitable for containers, among them sea holly (Eryngium bourgatii), perennial flax (Linum perenne), lantana (Lantana spp.), ivy-leaved geranium (Pelargonium peltatum), sweet autumn clematis (Clematis terniflora) and bearded iris (Iris germanica).

Container plants quickly use soil nutrients that should be renewed regularly. This is especially important for fruiting plants and vegetables. "Tea" in a ratio of 1/4 cup of well-rotted manure or compost to one gallon or so of water will keep them in fine shape.