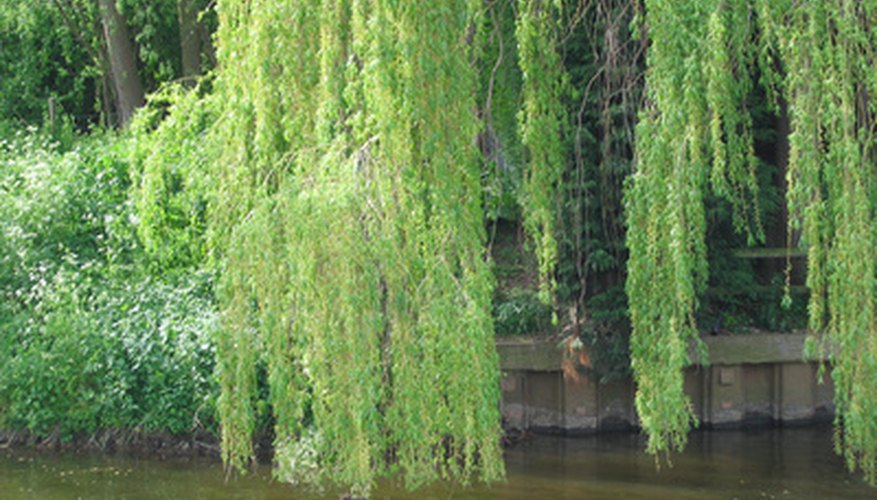 Weeping willow (Salix babylonica) is a native of central Asia and was a feature of the Hanging Gardens of Babylon, one of the seven wonders of the ancient world. Not all weeping trees are willows. Maples, crabapples, birches, cherries, pear, ash and elm all come in weeping varieties. Not all willows are weeping either. The others are upright varieties. It is all in the way the branches fall.
Features
The weeping willow grows to about 50 feet tall and spreads just as wide. The tree produces green lance-shaped leaves that grow up to 6 inches long and ½ inch wide and small yellow flowers that bloom from late winter to late spring. A small light-brown fruit appears in late spring or early summer when the flowers are done.
Climate
Weeping willows can be grown in any zone in the United States. Many do not recommend the tree for zone 10 because of the heat, but if extra care is taken to make sure the tree gets enough water, it will do very well. In zone 3, which is northern New England and Canada, and zone 2 in Canada, you need to get a hybrid variety that has been bred for colder climates.
Environment
Weeping willows are found in the wild growing near streams, lakes and rivers. The tree can take any type of soil as long as it is moist to wet. The soil should never be allowed to go dry. Willows are one species that requires constant access to moisture. Weeping willows need full sun. They will become thin and scraggly and lose their shape if they get too much shade.
Uses
Plant weeping willow near a pond or other water source if possible. It can be planted as a lawn specimen tree, but it needs a lot of lawn to grow. The weeping willow is not the right tree for a small property. The large root system helps fight soil erosion by holding the soil in place.
Problems
The roots of a weeping willow will seek out water anywhere they can find it and that includes sewer and water pipes. It should never be planted near any underground pipes or near a house. Weeping willow is susceptible to crown gall–a fatal fungal disease–and willow scab, a fungus that kills young leaves.