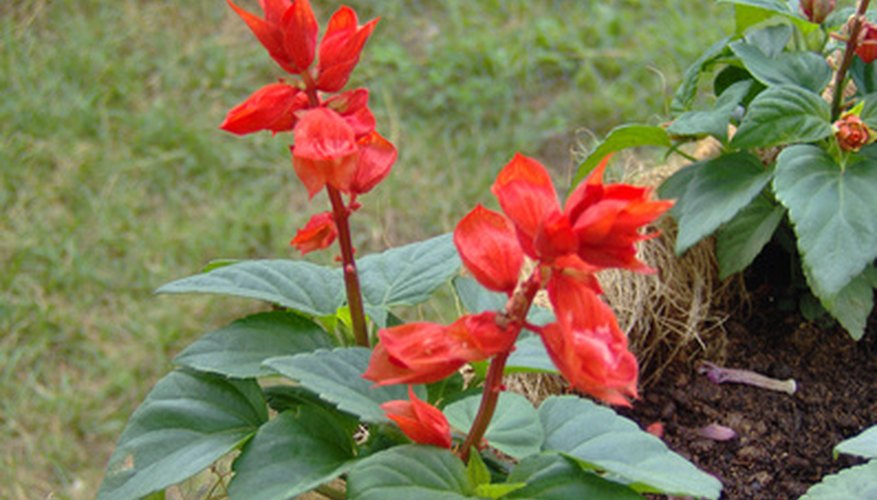 For carefree, constant blooms all season long, choose varieties of flowers that keep on blooming with minimal care. Most annual flowers will bloom continuously, but there are a few varieties that seem to perform better than others. Although most varieties of perennial flowers bloom for only a short time, some varieties of salvia and daisies will bloom from early summer until killed by autumn frosts.
Salvia
The genus Salvia (Salvia spp.) includes dozens of varieties, both annual and perennial, that bloom all season long. Their flowers are primarily purple, but some are also available in red, pink and white. Salvia produces a mass of flowers that grow along upright stems, opening from the bottom up. They prefer full sun and will grow in partial shade but produce fewer flowers. Provide them with a location that has good drainage and they won't be too fussy about the type of soil in which they're grown.
Rudbekia Daisy
A prolifically flowering perennial, rudbekia daisy (Rudbeckia gloriosa) is similar to black-eyed Susan but has a rust-colored ring around its dark brown center. They grow up to 3 feet tall and begin blooming in late spring and throughout the summer months, often until killed by frost. Plant rudbekia daisy in full sun and in well-drained soil. It is easy to grow from seeds planted directly in the garden and will bloom the second year after seeds are sown.
Impatiens
One of the most popular annual flowering plants, impatiens (Impatiens walleriana) grow best in partial to mostly shade. They produce masses of 1- to 2-inch flowers in white or all shades of orange, pink and red. For the most blooms, grow them in moisture-holding soil and keep them well watered. Impatiens can be dug up and overwintered indoors in a sunny window. They are spectacular planted en masse in borders, window boxes and container gardens.