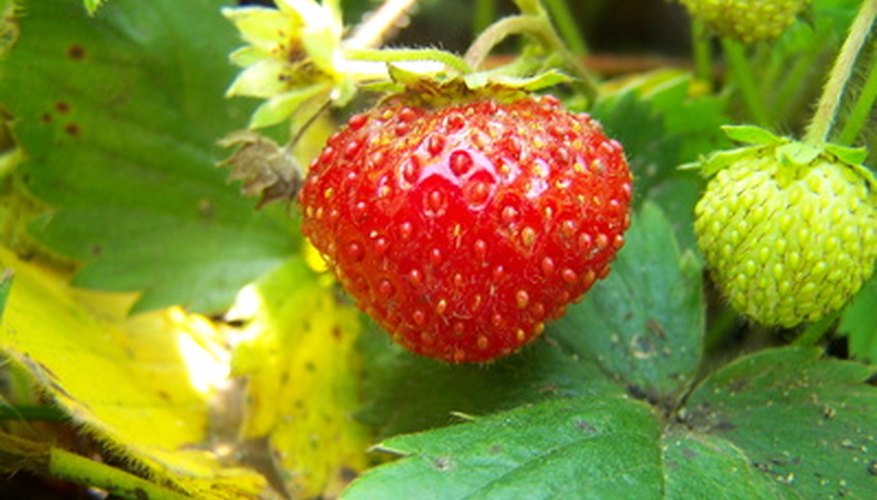 Fresh strawberries straight from the garden are a summer delight. Little can compare to the flavor and aroma of the juicy red fruits warmed by the sun. Taking up little space, the attractive perennial strawberry makes an ideal addition to any Indiana garden. Indiana's climate accommodates several varieties of strawberries. By planting different types, you can have a consistent supply of fruit throughout the growing season, as much as 1 to 2 quarts per plant. You may even have enough to spare for a batch of strawberry jam.
Junebearers
Some of the best-suited varieties of strawberries for Indiana include Junebearer strawberries. Junebearers fruit one time each summer. Varieties to consider for continuous harvest include Earliglow for early in the season, Surecrop for midseason and Allstar for late in the season. All perform well in Indiana as long as you meet their requirements. Plant Junebearers in full sun and sandy loam soil that drains well. Keep the area free of weeds, and apply protective mulch. Refrain from planting strawberries where grass or verticillium-susceptible plants, such as tomatoes, grew.
Dayneutral
The dayneutral varieties of strawberries bear fruit throughout the growing season. Tristar and Tribute tolerate colder climates well. The summer heat in Indiana may pose a problem, so afternoon shade and protection helps. Dayneutrals have similar growing requirements as the Junebearer strawberries. Make sure they have adequate water, about an inch or two per week. You will probably have to supplement during the summer because Indiana often experiences drought conditions.
Alpine
Fraises des bois (Fragaria vesca), sometimes called wild or alpine strawberries, naturalize readily in Indiana. The mounding plants produce small fruits throughout the summer. Although the fruits do not reach the size of the other varieties, the alpine strawberry has several benefits. The plants grow easily from seed and generally do not have runners. They make attractive ground covers, and you can grow them in partial shade. They also do well as container plants. They perform best in fertile, well-drained soil with a mulch of pine needles or straw. Harvest the berries as they ripen to encourage more production.