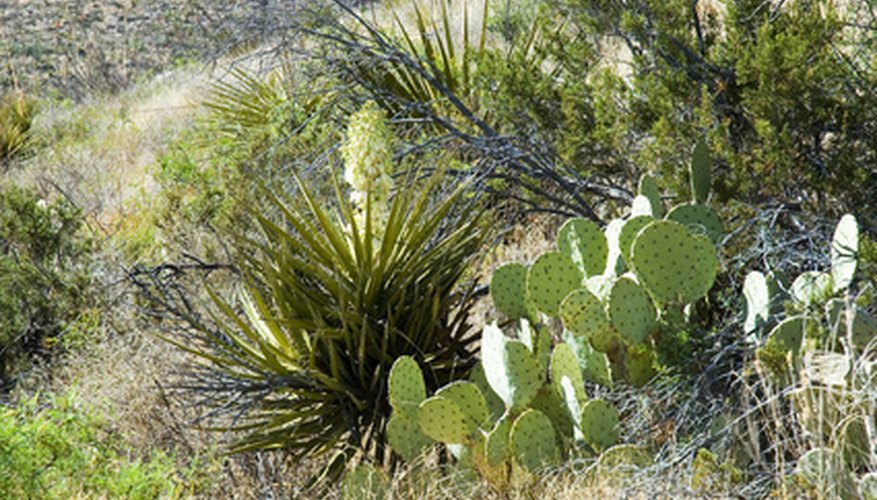 Efforts to preserve the natural habitats of plants native to Texas begin with learning about the state's varying landscapes, climates and vast flora. Texas—the second largest U.S. state—is located in the southern central area of the country, bordered by Arkansas and Louisiana to the east, New Mexico to the west, Oklahoma to the north and Mexico and the Gulf of Mexico to the south. Texas' native plant life is distributed throughout its prairies, plains, rolling hills, forests and lakes, rivers and coastal areas.
Bluebonnet--Texas State Flower
Bluebonnet (Lupinus texensis), a flowering annual herb that is native to Texas, Oklahoma, Louisiana and Florida, was declared the state flower in 1901 by the Texas Legislature. A member of the Fabaceae family, bluebonnet grows to 1 foot in height and blooms from late winter until midspring. It does well in full sun and moderately moist and pH-balanced soil. Other common names for bluebonnet include Texas bluebonnet, wolf flower and buffalo clover.
Pecan--Texas State Tree
In 1919, the Texas Legislature declared the pecan as the state tree of Texas. Pecan trees (Carya illinoinensis) can reach heights of 150 feet. One tree produces thousands of pecan nuts, eaten straight out of the shell or used to make such treats as pecan praline and pecan pie. Pecan belongs to the Juglandaceae family (the walnut family) and grows in Texas, the southeastern states and as far north as Iowa, Illinois, Indiana, Ohio and Maryland. This perennial tree actively grows in spring through summer, produces yellow blossoms early spring and thrives in full sun and moist soil.
Carolina Jasmine
Native to Texas and the southeastern states, Carolina jasmine (Gelsemium sempervirens) belongs to the Loganiaceae family. A perennial evergreen vine, Carolina jasmine produces soft, fragrant yellow flowers that bloom in clusters from late winter through spring. It does well in varying pH soils, is drought-tolerant and grows in partial shade to full sun exposure. Its elegant vine appearance makes it a favorite for trellis gardening. Carolina jasmine is also called Jessamine.
Horse Mint
A member of the Lamiaceae or mint family, horse mint (Monarda citriodora) is a native plant that grows throughout the entire state of Texas. Considered an annual, biennial and sometimes a perennial, horse mint grows up to 2 feet in height and produces clusters of purple flowers from late spring through midsummer atop its mint-scented stalks and leaves. It grows well in dry to moist, well-drained soil and partial shade to full sun. It is also known as lemon mint and lemon bee balm.
Indian Blanket
Also known as firewheel and blanket flower, Indian blanket (Gaillardia pulchella) belongs to the Asteraceae family and natively grows in Texas, west to California, mid- and eastern North America and Alaska. Indian blanket grows from spring through fall, is drought-tolerant and requires full sun. It is an easy-to-grow flower that reaches to 2 feet in height and makes a wonderful addition to any flower garden.