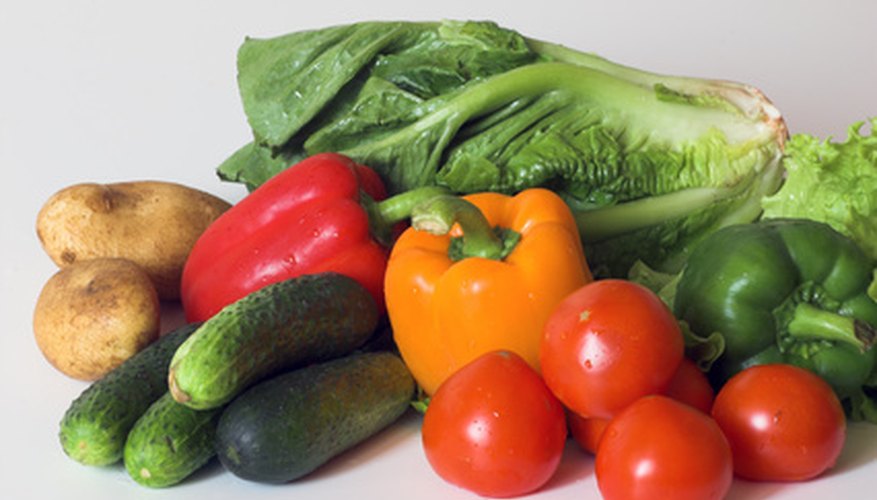 A vegetable garden does not have to occupy a large space. In fact, small gardens often make more efficient use of space than large gardens. Some advance planning is needed, but even vegetables that need lots of space can be grown using special techniques. Smaller varieties of some popular vegetables are easy to find, and sometimes they grow faster so the space can be reused when they are finished--this is called succession planting.
How Small is Small?
If we had grandparents who grew up in the country, they might have considered a 50 x 50-foot vegetable garden small. Nowadays, in the average backyard, a vegetable garden can be 8 x 8 feet or even 4 x 4 feet and still produce loads of vegetables. You don't even need a backyard--if you have a patio or balcony, you can grow a successful garden in containers!
Use Space Efficiently
Reduce the amount of space taken up by footpaths. You shouldn't step on the soil where plants are growing--that compacts soil, limits water absorption and inhibits root growth--but by making your growing beds four feet across you can reach into the middle (from one side or the other) without stepping on the soil.
Raised Beds
Growing areas enclosed by wood planks or railroad ties, filled with rich, well-drained soil and higher than the surrounding area, are called raised beds. (Avoid the use of pressure-treated wood.) They can be made any size, but as mentioned above it's a good idea to make them no more than four feet across so you can easily reach the center from either side. Raised beds are particularly good for elderly or disabled people because they can be tended without a lot of bending over.
Square Foot Gardening
In 1981 a retired engineer, Mel Bartholomew, wrote a book that became a best-seller, "Square Foot Gardening," which gave rise to a long-running TV series. The method has been adopted by many thousands of gardeners all over the world. It is ideal for small spaces and makes use of every inch. Everything is planted on a grid pattern, with the amount of space needed by each plant carefully calculated to minimize wasted space. A new edition of the book was published in 2006.
Growing UP
Plants that like to sprawl, such as the vines of cucumber, squash and melon, can be trained to grow up a nylon netting trellis. Sturdy supports to hold the trellis are needed to bear the weight and stand up to windy conditions, but this method makes it possible to grow space-hungry plants in a very limited area. The plants are often healthier growing up a trellis than sprawling on the ground, because they benefit from increased air movement that discourages mildew diseases.
Container Gardening
Even city dwellers can have a "garden" in containers, ranging from large nursery containers to small flowerpots. Many seed catalogs now carry small varieties of some vegetables that take up much less space and have been bred specially for container gardens. Most herbs grow well in containers. Some vegetables, such as tomatoes, peppers and eggplants, seem to actually prefer containers because the soil gets warm faster, which they like.